---
TOWER3 BASE LINE PRESTINE IS NOW OFFERING STUDIO TYPE CONDO, CEBU CITY
Ad Type: For Sale | Location: Cebu City
| Views: | Comments: | 16 January 2019
Total Land Area: 1has
Ever Evolving, Ever Exciting.
Baseline Prestige is its newest and final tower, completing the evolution and excitement of the Base Line Center. A wing of spacious new residences with an amenity podium floor and a retail podium, and an internationally managed, modern and hip hotel, life by the Ascott Limited.
Location & Vicinity:
Located at Juana Osmeña St., Base Line Prestige will live up to the promise of a complete lifestyle destination in one address. It is strategically located at the heart of Cebu City.
Base Line Prestige is:
200m from Cebu Doctors' University Hospital
300m from St. Theresa's College
400m from Redemptorist Church
450m from Fooda Supermarket
650m from Cebu Velez General Hospital
950m from Chong Hua Hospital
1km from Cebu Provincial CapitolBUILDING LEVEL DETAILS:
31-storey Building
5 storeys of Parking
2 storeys of retail podium floor
1 storey of podium amenity floor: level 5
6 storeys of hotel floors: levels 6-11
19 storeys of residential floors: levels 12-31351 residential units
Loft type : 4 units
Studio: 189 units
1BR: 139 units
2BR: 15 units
3BR: 4 units

351 PARKING UNITS

Basement Parking: 3 levels
Podium Parking: 2 levelsShared

Units of Baseline Prestige:

Internal road & pedestrian Network
Exclusive lobbies and lounges
Landscape Areas
Basement & podium parking areas
Chaise lounge decks
Spa pool
Lap pool
Multi-purpose function room
Alfresco
Playground
Sand Pit
Fitness Gym
Outdoor lounges
Pathways
Meditation Area
Passive Gardens
Roof Garden
Water features

Building and Unit Features of Baseline Prestige:
Balcony on selected units
All units are combinable
1.5m min.corridor width
3 passenger elevators
Garbage holding room per floor
100% Back-up power
High ceiling lobbies
Sky gardens
Roof Garden
Exclusive Garden for loft units
24/7 CCTV security system
Property management services
Painted walls, partitions & ceilings
Homogenous Floor Tiled Living, Dining & Kitchen areas
Laminated flooring in Bedrooms
Tiled toilet & bath with complete bathroom fixtures
Kitchen sink with counter top
Kitchen based and overhead cabinets
Provision of Grease trap
Installed fire detection & Suppression system
Provision for kitchen exhaust
Provision for split-type air condition system
Provision for cable, internet & telephone
Provision for shower heater
Provision for washing machineSAMPLE COMPUTATION:
UNIT AREA: 24.06 sq.m.
LIST PRICE: 3,271,371.92
Transfer Charge: 261,709.75
Total Price: 3,533,081.67
Reservation Fee: 20,000.00OPTION A:
*15% Downpayment over 42 months (Transfer Charge on the 43rd mo):
11,207.28/month
*85% Balance thru Bank Financing: 2,780,666.13

OPTION B:
*15% Downpayment over 42 months with Transfer Charge:
17,438.47/month
*85% Balance thru Bank Financing: 2,780,666.13
Pictures
---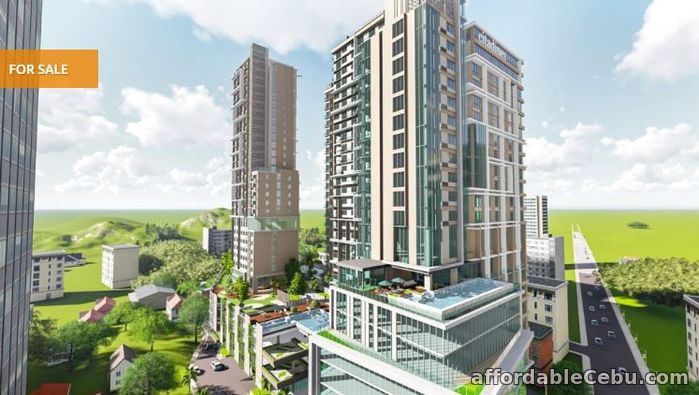 Share this Ad