---
1st class brand new condo-type rooms for rent at manila university belt near NU, CEU, FEU, UM, UE, CPAR, RESA
Ad Type: For Rent | Location: Outside Cebu
| Views: | Comments: | 02 September 2019
BRAND NEW WORLD CLASS CONDO-TYPE ROOMS AND FACILITIES Located at 2496 Ramtrirom St., Sampaloc, Manila
Our room rental rates range from P7,000 per month to P12,000 depending on room size and facilities.
FOR RESERVATIONS AND QUERIES, PLEASE CONTACT US AT: 02-2381740, 09985695699 OR 09196558755.
OUR WEBSITES ARE:
https://olmc-ladieshome.yolasite.com/olmc-building-2-gallery.php
http://www.olmc-ladieshomes.com/?p=475
ROOMS FOR RENT EXCLUSIVELY FOR LADIES ONLY:
Right at the heart of the Manila University Belt, just a few steps from National University, and very near University of the East, Manila University; Arellano University; Far Eastern University; Centro Escolar University; Mary Chiles College; San Sebastian College; San Beda College; Sta. Catalina College; La Consolacion College; College of the Holy Spirit; Samson College of Science and Technology; Nazareth School (senior high school); CPAR; RESA Review School; PSBA Manila CPA Review; Pioneer Educational Review Center; Multivector Review and Training Center; JPT Review Center; and the University of Santo Tomas.
Here's a brand new residential building with cutting-edge fire protection and safety facilities and equipment. All walls of the entire building are made of solid steel reinforced and load-bearing concrete instead of the traditional hollow blocks which are prone to disaster in times of earthquakes. Hence all rooms have top fire protection rating, totally sound-proof, water and humidity proof, 1oo% earthquake proof, and 100% fire proof. As if these were not enough, the building foundation is made up of a solid monolithic single-slab reinforced concrete mat foundation one and a half meters thick and covering the entire lot area of the building. Hence, absolutely earthquake proof. Lastly and equally important, all construction materials used are non-carcinogenic and non-toxic unlike those commonly used in most constructions, hence ensuring the continued good health of its residents.
FOR RESERVATIONS AND QUERIES, PLEASE CONTACT US AT: 02-2381740, 09985695699 OR 09196558755.
OUR OTHER WEBSITES ARE:
https://olmc-ladieshome.yolasite.com
http://www.olmc-ladieshomes.com
All rooms are world class, aircon-ready, internet-ready, cable TV-ready and complete with own toilet, lavatory, shower and bath, small pantry with cupboard and kitchen sink, study table, bed and closets. Every resident and transient is entitled to free use of: The Garden Reception, The Study Area with free high-speed wifi internet, The Study Room, and The Lobby with wide-screen cable TV.
OLMC BLDG 1 IS LOCATED AT THE BACK OF UST WHILE OLMC BLDG 2 IS LOCATED AT THE BACK OF NATIONAL UNIVERSITY - BOTH BLDGS ARE NOW ACCEPTING RESERVATIONS!
OLMC BLDG 1 is very near UST, FEU, CPAR, RESA, Manila Business College, Perpetual Help College, Jose Reyes Memorial Medical Center (JRRMMC), San Lazaro Hospital, DOH, Fabella Hospital
In looking for a room to rent, it is not enough to make sure the place is safe from criminal elements, fire, earthquake and pests. It is equally important to make sure the room and the building was built using non-carcinogenic and non-toxic construction materials. Building materials containing toxins are known to cause any combination of some or even most of the following health problems: prostate, breast, lung and other forms of cancer, health complications, brain disorders, memory impairment, eye irritations, dizziness, blood disorders, auto-immune diseases, blindness, damage to kidneys, genetic mutations, birth defects, chronic bronchitis, liver disfunction, heart disease, skin diseases, abdominal pains, allergies, chronic pains and headaches, infertility, immunotoxicity, obstructive pulmonary disease, asthma, premature aging, etc. etc, including death. Though highly toxic, these substances can hardly be seen, tasted or smelt and they get into our bodies through ingestion, inhalation or contact with skin. The longer we are exposed to them (such as if the room where you live in and sleep in was built using building materials containing such toxins), the more serious and deadly are the resulting health problems. Hereunder are the most common:
Asbestos
Cadmium
Chlorinated polyethylene and chlorosulfonated polyethlene
Chlorofluorocarbons (CFCs)
Chloroprene (neoprene)
Formaldehyde (added)
Halogenated flame retardants
Hydrochlorofluorocarbons (HCFCs)
Lead (added)
Mercury
Petrochemical fertilizers and pesticides
Phthalates
Polyvinyl chloride (PVC)
Wood treatments containing creosote, arsenic or pentachlorophenol
Buildings 1 and 2 were both built from non-carcinogenic and non-toxic materials. Buildings are mostly made up of steel reinforced concrete, hence, had no use for flame retardants which almost always contain dangerous toxins. (Note that buildings made of materials other than concrete usually require flame retardants for fire protection.) No construction materials containing any one of the above mentioned toxins were ever used in the construction of our buildings, rooms and fixtures. Unlike most floorings used in the country, the flooring tiles we used contain no polyvinyl chloride, and no vinyls whatsoever were used in our buildings, that is why even the electrical wires we used are the more expensive wires not just for fire safety but also to ensure the wire insulators contain no dangerous toxins such as polyvinyl chloride which is found in most electric wires. The resident will also notice that we used no manufactured wood products because manufactured wood products are almost always treated with chemicals such as pentachlorophenol, creosote and arsenics. Our cabinets and beds are made from local untreated tanguile wood. Our doors are made from hand carved Yakal, narra or tanguile. We likewise ensured that the painting materials used in painting our buildings and rooms contain no lead and other toxins. Since lead is one of the most toxic building material and one of the few toxins that can cross the blood-brain barrier and enter our brain, no lead pipes and other building materials containing lead were used. The water pipes we used are PPRs Eco-friendly posing no negative effect on human health and are high pressure and high temperature resistant hence, ensuring no leaching out of chemicals in the water being used by our residents. Since potable water in Manila is definitely chlorinated by Maynilad, has ensured that our water is safe for our residents by passing first into our cisterns where the chlorine and other hazardous disinfection-by-products in Manila water is dissipated and removed. All the water tanks we use are stainless steel water tanks rather than made of fiberglass which is known to contain many toxic substances.
Pictures
---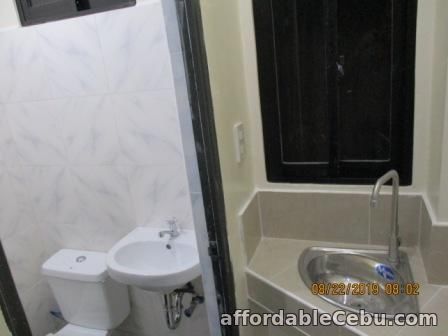 Share this Ad