---
LEARN KOREAN LANGUAGE
Ad Type: Announcement | Location: San Fernando
| Views: | Comments: | 28 November 2018
Learn Korean language at First Alliance Korean Language School (Philippines). TESDA registered Korean Language Centre located at Monumento Caloocan City (LRT)
"No. 1 Producers of KLT and CBT Passers in the Philippines"
With Proof of EXCELLENCE!!!
WHAT STORED FOR YOU:
Custom-made Specialist Syllabus
We Offer you the Basic and Direct Approach in Passing the KLT/CBT Test.
We Give you the Techniques that usually appear in the previous KLT 1,2,3,4,5 6, 7th, 8th,9th,10th,11th, 12TH , AND 13TH EPS-TOPIK KLT klt exams
All of the questions are to be taken from closed question bank based on "The Standard Textbook for EPS-TOPIK".
Korean Language Syllabus is closely aligned to TOPIK exam
Covers more than the typical 'Korean for foreigners' textbooks
Extremely well-structured Korean classes for your quick comprehension
Trademark Teaching Style and Quality Korean Language Teachers
Trains all specially selected teachers from scratch - We do not simply hand teachers a Korean textbook and tell them what to cover in each lesson
Training ensures that our teachers consistently deliver Korean lesson content in a systematic and engaging fashion
All of our teachers are TOPIK PASSERS, Topnotchers and with TESDA Training Certificates of Competency.
(FREE KLT Manuals, NOTEBOOKS, PENCILS, KLT 1-14th Exams Compilation, CD's and FREE PREPARATORY BATTERY REVIEW PRIOR TO EXAM DATE)
UNLIMITED SIT-INS AND MOCK UP- PREPARATORY REVIEW BEFORE THE EXAM.
WITH TESDA PERMIT REGULATIONS (A PROOF OF OUR INSTITUTION LEGALITY)
SCHEDULES OF CLASSES:
WEEKDAY CLASS
(MONDAY-FRIDAY CLASS)
8:00-5:00 PM
SUNDAY CLASS
(SUNDAY –WEEKEND CLASS)
8:00-5:00 PM
For only 5,000 for 1st TIME KLT TAKERS
3,000 for RETAKERS FROM OTHER SCHOOLS
FIRST ALLIANCE ACADEMIC INSTITUTE INC.
OUR BRANCHES: LAGRO NOVALICHES Q.C, BINAN LAGUNA, STO.TOMAS BATANGAS, ANTIPOLO RIZAL, MONUMENTO CALOOCAN, CUBAO QUEZON CITY, BOCAUE BULACAN, DASMARINAS CAVITE.
CALOOCAN HEAD OFFICE: UNIT 304 Dona Lolita Building # 363 Rizal Avenue cor 10th Avenue Monumento Caloocan City ( On TOP of ROBINSON BANK, Infront of CHINA BANK SAVINGS, near Jollibee 9th Avenue. Building besides INTERFACE COMPUTER COLLEGE)
TEL. NUMBER (02)3760922
0908-2541622/ 0927-0556921
NOVALICHES QUEZON CITYBRANCH:
Unit 2, 2nd Floor Sta. Barbara st. Qurino HighHway Novaliches Quezon City
(Infront of St. Peter memorial Chapel, yellow colored building, just above Pharmacy and Poultry Store)
TEL. NUMBER (02)3760922
0908-2541622/ 0927-0556921
Pictures
---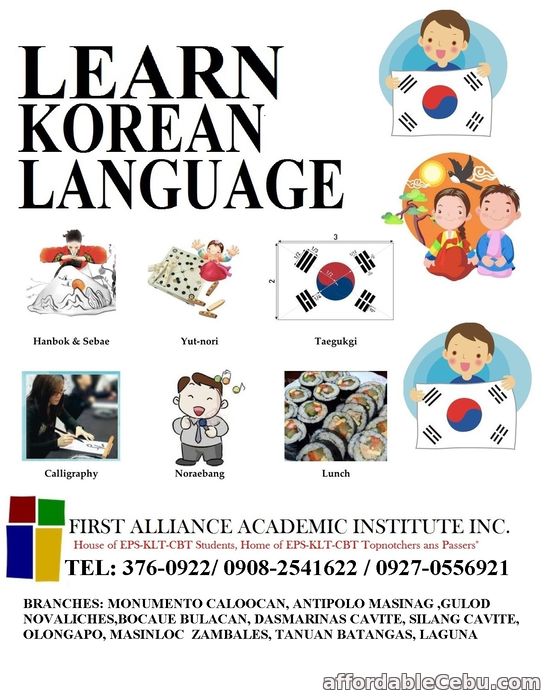 Share this Ad