Solaire Manila
is a premiere integrated resort and gaming complex now under construction at a 8.3 hectares of reclaimed land leased from Philippine Amusement and Gaming Corporation ("PAGCOR") at PAGCOR's Entertainment City project located in Paranaque City.
Bloomberry Resorts Corporation
(Bloomberry) owns the Solaire Manila through Sureste Properties Inc. ("Sureste"), a 100% subsidiary of Bloomberry. Sureste owns the hotel component of the project. Sureste also owns 100% of Bloomberry Resorts and Hotels Inc. ("BRHI") which owns the casino component of the project, and is one of only 4 licensees granted by PAGCOR to develop and operate integrated tourism and gaming complexes at the Entertainment City Manila.
During the Solaire Manila groundbreaking ceremony in July 2010: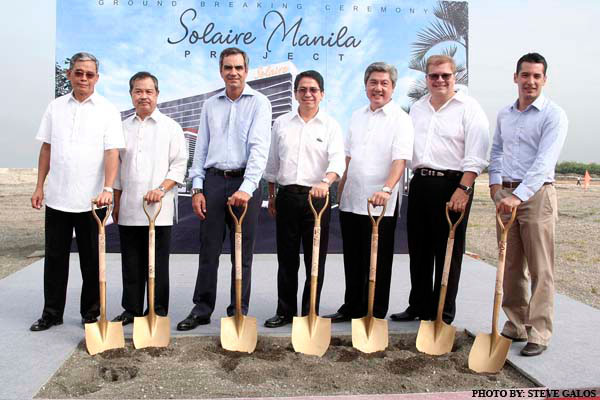 Parañaque City Mayor Florencio Bernabe, Jr. (center) joins Bloombury officials (Left to Right) Director Edgardo Abesamis, Director and President Jose Eduardo Alarilla, Chairman Enrique Razon, Jr., Chief Operating Officer Donato Almeda, Design Architect Paul Steelman and Director Christian Gonzales during the groundbreaking rites of the Solaire Manila Project of the Bloombury Investment Holdings, Inc., an 8.3 hectare world-class integrated resort complex at the Bagong Nayong Pilipino Entertainment City in the Bay Reclamation Area.
Phase 1 of Solaire Manila will consist of 27,700 square meter of gaming area, which will hold 1,200 slot machines, and 300 gaming tables. Phase 1 will have 500 hotel rooms, and F&B outlets including: 240 seat Chinese restaurant, 149 seat American steakhouse, 146 seat Japanese restaurant, 120 seat Italian restaurant, 250 seat international buffet/coffee shop, 176 seat noodle shop, and 216 seat food court and 66 seat lobby bar. It will have multilevel parking building with 3,000 parking slots, 1,000 seat grand ballroom, spa and fitness center, and bayview promenade. Construction of Phase 1 is expected to be completed in the 4th quarter of 2012 and Phase 1 is scheduled to open in the first quarter of 2013.
The design of Solaire Manila has taken full advantage of its excellent bayfront location, with the bay view promenade, pools, and VIP rooms/villas overlooking Manila Bay.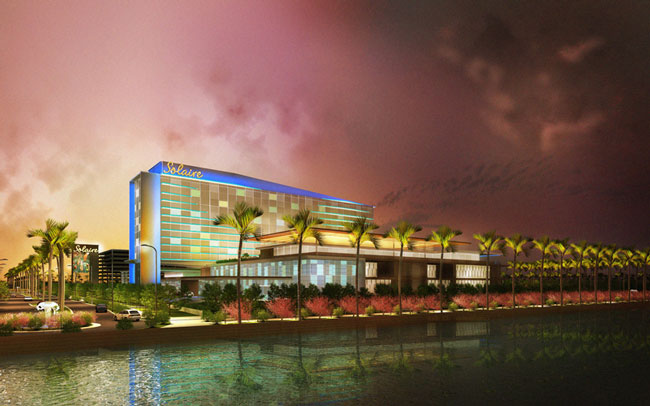 The gaming area is spread across two levels of the podium, and are segregated into mass market, high-limit, and VIP spaces with distinctive design themes catering to each segment.
Solaire Manila bird's eye view
The current completion date of the project is in line with the following time table below:
| | |
| --- | --- |
| Date | Key milestone |
| July 2010 | Construction (pile-driving) commenced |
| January 2011 | Pile-driving works completed |
| August 2011 | Pressure slab at garage |
| December 2011 | Top off at podium |
| January 2012 | Garage top off |
| February 2012 | Tower: structural at level 12 |
| March 2012 | Water-tightness of garage |
| March 2012 | Hotel top off |
| April 2012 | Water-tightness of podium |
| June 2012 | Water-tightness of hotel tower |
| 4 Quarter 2012 | Project completion |
| 1 Quarter of 2013 | Launch of Phase 1 of Solaire Manila |
Solaire Manila has developed the following operational plan going forward:
Sureste and BRHI (the "Owners") have signed a Management Services Agreement ("MSA") with Global Gaming Philippines LLC. ("GGAM") for a 5 years plus 5 years term. GGAM shall provide management services through a Management Team nominated by GGAM and approved by the Owners (with some officers nominated by the Owners), and other department heads and officers and personnel who will report to the Chief Operating Officer.
GGAM will be compensated based on certain percentage (2%-6%) of the EBITDA generated by the Solaire Manila Facilities including the EBITDA generated by Local High Roller Table Games. There is also incentive fee which will entitle GGAM to an additional graduated fee (6%-40%) for achieving certain EBITDA thresholds with respect to the EBITDA generated by Foreign High Roller Tables and Foreign Junket Players for each fiscal year.
The 3 principals of GGAM: William P. Weidner (former president and COO of Las Vegas Sands), Bradley Stone (former president of Global Operations & Construction of Las Vegas Sands) and Garry W. Saunders (former COO of Melco Crown), have extensive experience in the construction, fit-out and operation of large scale and world class casino resorts.
Prime Metroline Transit Corporation ("PMTC"), the controlling stockholder of Bloomberry Resorts Corporation has agreed to grant GGAM an option to purchase 10% of PMTC's shareholdings in Bloomberry for a price equivalent to US$15 Million plus 10% of PMTC's cost of investment in the Solaire Manila Project, exercisable before start of Commercial Operation of Solaire Manila.
Solaire Manila has hired the following experienced professionals as part of its Management Team:
-

Previously Senior Vice President of City of Dreams Macau

-

Previously Senior VP and General Manager of Altira Macau Casino and Senior VP of Operations for Venetian Las Vegas

-

Previously Senior VP of Gaming Operations, Galaxy Macau Resort

-

Previously served as VP for Table games of Marina Bay Sands, VP for Table Games of Venetian Macau and VP for Casino Operations of Sands Macau

- Previously Financial Controller of Wynn Resort in Macau

-

Formerly Controller of the Isle of Capri Resort, Missouri

VP - Development and Planning

-

Previously Assistant VP - Corporate Planning & Analysis for Galaxy Entertainment in Macau

-

Previously held Senior Development positions with Fontainbleau Resorts, Las Vegas Sands, Inc. & Boyd Gaming, Inc.

VP - Information Technology

- Previously held positions as Director of IT for Marina Bay Sands, IT Director of Stations Casinos, IT positions in Las Vegas Hilton and Flamingo Hilton Hotels

- Previously Chief Human Resources and Administration Officers for Asia, and a member of the Country Executive Committee for Thunderbird Resorts, Hotels and Casinos
Solaire Manila has developed the following strategies to establish itself as a world class gaming facility in the Philippines:
Provide a first-class gaming experience to all sub-sets of customers.
Leverage our global gaming experience and distinctive design of the casino to cater to the differentiated needs of each sub-set of gaming customer
Take into account both gaming and non-gaming preferences
To immediately dominate the existing domestic mass market upon launch.
Attract mass market customers with the best-in-class product in the Philippines
Implement a targeted marketing and PR program prior to launch
Drive repeat customers by employing tailored customer relationship management, tracking and analytics to better reward customers
Capture the underdeveloped VIP market in the Philippines.
Provide a VIP gaming experience on par with top international gaming facilities
Leverage in a favorable Philippine tax and cost structure to incentivize junkets and market to premium direct customers
Leverage on management and GGAM's direct customer relationships as well as existing relationships with regional junket operators
Open Solaire Manila on time and on budget.
Target to be the first priority to launch in Entertainment City
Ensure customers are provided a high quality experience from day one
Leverage Design Coordinates Inc. (the Construction Project Manager), D.M. Consunji Inc. (the Design and Build Contractor), and GGAM's track records of delivering high quality project on schedule and on budget
Operate flexibility to maximize returns.
Design and build a flexible gaming facility that allows for adjustments to layout and gaming mix with minimal operational disruption
Employ performance benchmarking systems that allow real-time improvements to the property
Leverage GGAM's global network to identify new gaming trends.
take advantage of GGAM's relationships and experience in major global gaming markets
Ensure current and relevant gaming facilities to offer a globally comparable experience
Bloomberry's total outstanding shares is 9,291,840,556 shares with par value of P1.00 peso each. Total listed shares is 8,370,656,500 shares. These include the 8,270,656,500 new shares issued in connection with the increase in Bloomberry's authorized capital, the listing of which has been approved by the Philippine Stock Exchange and is effective today, April 4, 2012.
The public float in Bloomberry amounts to 820,000,000 shares or 8.8249% of the total outstanding shares. This is still short of the 10% public ownership requirement of the PSE. Bloomberry is committed to satisfy the 10% minimum pubic ownership before the end of this year 2012. The following are the various possibilities by which such required public ownership may be achieved by Bloomberry:



(a)

The existing shareholders (other than the controlling shareholders) may sell a part of their current shareholdings.




(b)

Controlling shareholder PMTC (or other shareholders identified with PMTC) may sell a part of their shareholdings.




(c)

The Company may sell shares in a private placement to new investors.




(d)

The Company may conduct a placement and subscription transaction which will have the effect of bringing in new investors .




(e)

The Company may have a rights offering, which could put more shares in the hands of shareholders and increase the number of shares available for trading.




(f)

The Company may approve and implement a stock incentive plan for its and its operating subsidiaries' directors, officers and employees .
Any of, or a combination of, the foregoing transactions will allow the Company to satisfy the 10% public ownership requirement. The Company will make the appropriate disclosure once any, or a combination of the foregoing transactions are approved by the Board of Directors.