Do you know which is the
Best Postpaid Business in the Philippines
in the field of telecommunications? For me, the best postpaid business is the
Sun Cellular
. If you are going to compare the services of other major competitors versus the Sun Cellular, they cannot match what the Sun Cellular offers especially the Call and Text Unlimited services.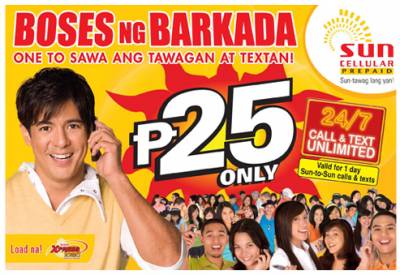 There are many telecommunications provider in the Philippines. The PLDT, SMART or Talk n Text which are its subsidiaries, and the Globe. These networks were unrivaled by the Sun Cellular in terms of numbers of postpaid subscribers. The Sun Cellular has over
1 million postpaid subscribers
and 15 million prepaid subscribers. Globe Telecom's postpaid subscribers hit 909,000 at the end of the first half of the year, while industry leader Smart Communications had only 439,844 in the same period, according to these firms' second quarter financial reports.
Not only in terms of the number of postpaid subscribers, what else are the extra or the plus factor of Sun Cellular why it should be the Best Postpaid Business in the Philippines.
Reasons Why Should Sun Cellular Should Be the Best Postpaid or Should We Say The Best Telecommunications Provider in the Philippines

The Sun Cellular has unmatched unlimited services and rates. Sun's network uses the best technology available. According to Charles Lim, Sun Cellular Business unit CEO, "We can meet peakload demand without congestion. This is the advantage of being a latecomer in the business. We got the latest and the best infrastructure, and are offering rates that could reduce a subscriber's cost anywhere from 40 to 80 percent per month."
Sun pioneered the unlimited service in the country. Its rivals had followed suit but offer it only as promos. Sun unlimited is a product in itself, which means it is a permanent offering.


"For P350 per month, a subscriber can talk to her mother in the province the whole day for 30 days. And the phone is free," Charles Lim said.

"We have a similar but better package for companies: Managers can talk to anybody in the company the whole day Sun to Sun, but if the employees want to call the other carriers, they have to buy their own load. This affords companies whole-day connectivity and equally important, control of costs.
With every seven out of 10 new postpaid subscribers coming to us, we have found the sweet spot. We expect to gain more market share in the near future since our rivals will not be able to match our unlimited packages,"
he added.


According to the Inquirer.net, "In the first half of the year, Digitel posted a net income of P145 million, a reversal from a net loss of P638 million in the same period in 2009. This was driven by the double digit-rate growth in the company's revenue as Sun's subscriber base grew in the period."
So it is just reasonable and justifiable that Sun Cellular is the No. 1 Postpaid or the Best Postpaid Business in the Philippines.