Do you want to gain more
business
insights from popular business leaders in New Zealand? Read this article about how the top business leaders of New Zealand such as Steven Renata (Les Mills International), Ed Sims (Air New Zealand), and Paul White (Beca) share their insights and business experience with New Zealand.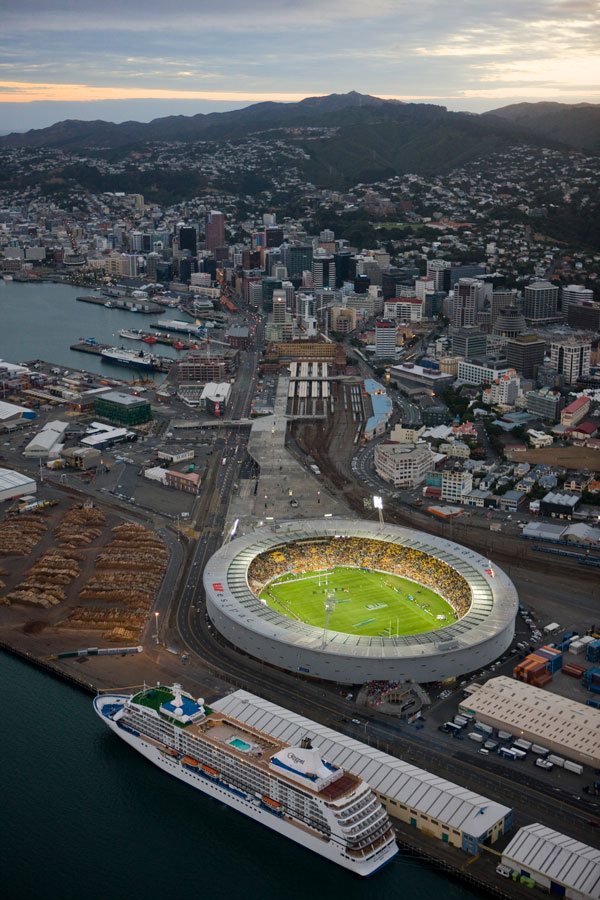 Westpac Stadium New Zealand (photo by Andy Radka)

New Zealand's Culture and Values
Steven Renata (Les Mills International):
One of the fantastic things about being from New Zealand was going offshore and using elements of New Zealand culture. Doing the hongey, you know, pressing and touching noses. And doing the "haka" (traditional type of dance of the Maori of New Zealand. And really touch the people's emotions, the hats before we actually going to the real business of what we were doing.

Ed Sims (Air New Zealand):
Just a simple use of "cura". Just the way we greet people using our own native tongue is all about who we are. We talk within the airline about "who we are" being a powerful expression in our own native personality. And it's very very powerful and it strongly resonates with the customers.

About Innovation
Paul White (Beca):
Our people love a challenge. They love solving problems with our clients. So if we look at our core values, tenacity, care, perseverance. These are key to the way we solve problems with and for our clients

Steven Renata (Les Mills International):
Everyday we get up and we're thinking about how we gonna create life changing for these experiences every time, everywhere.

Ed Sims (Air New Zealand):
Innovation is partly driven by our relative isolation but partly also driven by real determination to be first market. It's almost unheard of for airlines to be developing their own seat concepts. It's certainly unheard of to develop new different ideas and areas like in-fly entertainment or food. Once again, it will make New Zealand stand-out in a world that otherwise becomes very gray and very commoditised.


Business Relationship with People in New Zealand
Steven Renata (Les Mills International):
Running health and fitness facilities is no different from being on the business. You need customers. Note that you need to keep those customers. And what we've seen of the last ten years has been what a trick someone to a business, a health club. And what keeps them here is starting to be more and more based on their emotion and human connection

Paul White (Beca):
Our client-relationship are critical to us. And we judge our success really by whether our clients asked us back to join them on future projects together. So the long-term relationships we have established with the number of variation of clients that have spend twenty to thirty years are very rewarding.

Ed Sims (Air New Zealand):
We've been developing completely new concepts. So lie flat economy seats, of ultra wide premium economy seats. And the ability of every customer on board to order their food and drink through their in-fly entertainment system instead of pressing a cold button. To me, it's all about taking giant steps forward. In terms of allowing customers to choose, the experience that they want on board instead of the experience that the airlines choose them.


Their Benefit to the New Zealand Community
Steven Renata (Les Mills International):
Through what we're doing, helping people to get in groups. Taking them to healthy forms of fun, effective simple exercise and allowing them to grow on their own lives is a very very powerful platform. Then talking about how their lifestyles benefit the community and how their communities benefit the plan.

Paul White (Beca):
Take a pride itself when our client comes back for another exciting project based on their experience and journey with us. Developer in Hong Kong came to New Zealand. He was searching the world, foretell and build in Macau. He saw the Skytower and said I want one of those. So he employed Beca modern architects to deliver a larger version of that in Macau.

Auckland, New Zealand at night (photo by Kim Christensen)
The Future of Business Industries in New Zealand
Ed Sims (Air New Zealand):
The future for Air New Zealand is not about conventional categories by cabin. It's not about defining passengers by business class or economy class or courting people 37k. The future for us is about defining experiences. It's all about individual and personal choice.