Lots of complaints have been posted by many people concerning these "
Mactan-Cebu International Airport Scam
" issue. And you should be aware of this so that you, your friends, or your family will not be the next victim of this kind of scam. Protect yourself by knowing this type of scam.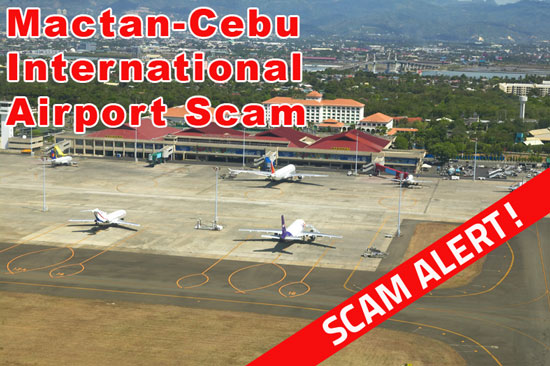 Mactan-Cebu International Airport Scam (photo: philippineairspace.blogspot.com)
The scam goes something like this. Those who complained were victims of the scam in which they were forced to pay a certain amount of money (ranges from PhP9,000 to 25,000) in order for their package/parcel in the airport to be released. This payment was said to be the administrative charges and airport charges according to the scammers. The scammers suggested to the victims to pay the charges through sending the money in Western Union. The packages/parcel would not be released unless the payment was sent. But even if some of the victims already paid, the package would still not be released in the airport.
The scammer(s) allegedly introduced themselves as Officer-in-Charge of the Bureau of Customs in the airport. They tried to contact the victim through a cellphone or email.
The victims posted the names used by the scammers which follows:
Angela K. Alfonso
Rebecca Alfonso
Roque Gonsaga
Rose Santos - with a cellphone number: 09155408944
Beware of this kind of scam! Ignore and don't believe these scammers. If you've been scammed, go to a nearest
Cebu Police Station
and report the incident. You can also contact the Bureau of Customs of Cebu at phone number: (032) 232 0160 ; email address: boc_cebu@yahoo.com to verify if the alleged Officer-in-Charge of Bureau of Customs who texted you is real.
Did you encounter such kind of scam. Please share your experience?