This year, CNN Money reveals a list of the highest paid CEOs (Chief Executive Officers) of Wall Street. Big banks of most nations published how much CEOs earned in 2012. Some CEO's compensation had been cut. While some receive very huge salary increase and bonuses.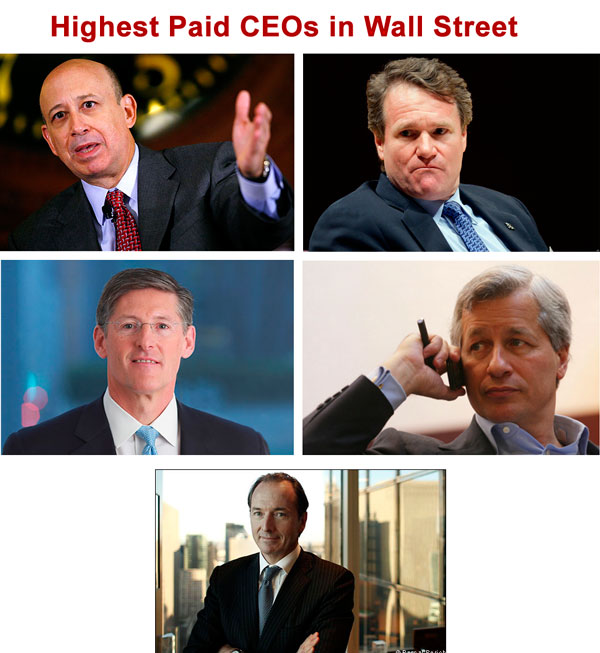 Let's take a look at the list.
---
Lloyd Blankfein is the CEO of Goldman Sachs (GS), an American multinational investment banking company. He received a compensation package totaling $21 million. Aside from his base salary of $2 million, the Board of Directors allowed him to receive $19 million bonus: $13.3 million in stock and $5.6 million in cash. Blankfein received a lesser compensation in 2011 which totaled $12 million.
He wasn't not the only CEO who received earnings increase last year. There are also other executives at Goldman who are paid base salary and other bonuses totaling $71 million.
Brian Moynihan
---
He's the CEO of Bank of America, an American multinational banking and financial services corporation. The shares of Bank of America (BAC) doubled in value in 2011. That's why Moynihan granted a huge pay raise.
He received $11.1 million in restricted shares in 2012. His compensation package totaled to over $12 million including his base pay. In 2011 he just received $7 million. His sudden increase of earnings was brought by the increase of Bank of America's shares from less than $6 in January 2012 to nearly $12 at the end of 2012.
---
He was the new CEO of Citigroup, an American multinational financial services corporation. He was paid worth $11.5 million in 2012 and that includes one of the few cash bonuses distributed to the top Wall Street CEOs in 2012.
A 29-year veteran of the bank, Corbat replaced Vikram Pandit as CEO of Citigroup in October 2012. Pandit received $6.7 million for in 2012. He became the first CEO of a top bank whose pay package was voted down by shareholders in 2011.
Citi restructured the compensation package of its top executives. Thirty (30) percent of their pay in 2012 was in the form of "performance share" stock grants instead of deferred cash. It won't be paid out for another 2 years. The purpose is to sustain the relationship between CEO compensation and the company's performance.
Jamie Dimon
---
Dimon is the CEO of JPMorgan Chase, one of the big four banks of the United States. He was the best paid bank CEO in 2011 in which he was able to receive $21.5 million. But in 2012 his bonus was cut in half. He was just paid a total of $11.5 million in 2012.
JPMorgan's Board cut his bonus in half due to the $6.2 billion loss it suffered on the "London Whale Trade". According to him, the losses on credit derivatives were due to "sloppiness" and "bad judgment". The board also decided to push back Dimon's eligibility to sell $79 million of JPMorgan's stock for 18 months.
James Gorman
---
Gorman is the chairman and CEO of Morgan Stanley, an American multinational financial services corporation. The company is also cutting back. According to a person familiar with the bank's plans, Gorman will received stock options, a deferred cash bonus and base pay worth $6 million in 2012. He also received a long-term incentive plan valued at $3.75 million.
His compensation is down 7% from 2011 when he received a compensation package totaling $10.5 million.
Morgan Stanley planned to eliminate 1,600 jobs or 3% of its workforce and that includes "more senior employees".