There are instances that you want to monitor the account balance of the other sim card (
e.g. Globe, Smart, TM, Talk N Text, or Sun Cellular
). Like for example, you want to know or monitor regularly the balance of your sister or brother's sim card and you are far away from her/him. Is it possible?
Yes it's possible but as of this date, telco or mobile network companies in the Philippines have not yet implemented such feature:
Monitoring or inquiring the account balance of other people's sim card.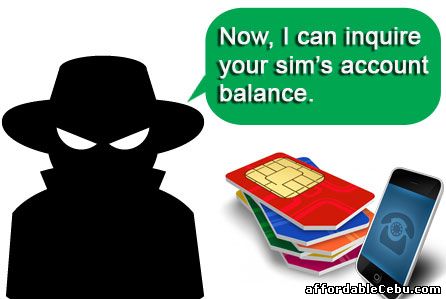 Advantage
This feature is very useful if you want to monitor the account balance of your love one's sim card. This type of service will make you aware how your love ones spend the money or load of their cellphones. Like for example, you are an Overseas Filipino Worker (OFW) and you send money regularly to your love ones (sister, brother, mother, father, or relatives). You may also send cellphone load to them. And you want to know how they spend carefully or squander that load you give to them.
Disadvantages
So this feature might be very useful. But in case mobile network operators enable this type of service, they may implement charges or fees for the said service.
And also privacy issues may arise. It will be easy for a person to determine the sim card (phone) account balance of other people not related to him/her. It might be possible to know the sim account balance of the President of the Philippines, the senators, the richest men in the Philippines, or the celebrities. Finding the right identity verification steps might be hard to achieve.
I think the cons outweighs the pros. Maybe that's why mobile network operators have not yet implemented the said feature.
Do you think it's very useful to implement the "inquire account balance of other people's sim card feature"? If yes, tell us the reasons in the comment below.