General Ricardo David takes oath as new Bureau of Immigration (BI) Chief
In March 18, 2011, Former AFP (Arm Forces of the Philippines) chief Gen. Ricardo David took his oath at the DOJ (Department of Justice) as the

new chief of BI (Bureau of Immigration)

in the Philippines.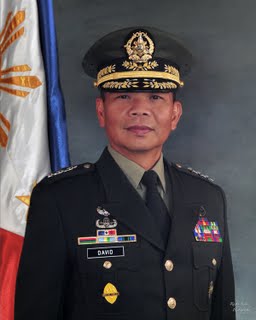 Picture of General Ricardo David, the new Bureau of Immigration Chief



General Ricardo David replaced the Bureau of Immigration officer-in-charge

Ronaldo Ledesma

. Ledesma will return to his old job as Bureau of Immigration chief of special inquiry, according presidential spokesperson Edwin Lacierda.

Lacierda told the reporters on Wednesday that President Aquino was already planning to retain Gen. David in the public service and after retirement was to appoint Gen. David even before Taiwan complained on the deportation of 14 Taiwanese to China.

The President was very happy that Gen. David had taken his oath and face the new challenge in the "civilian sphere".

Gen. David vowed to help the government fight human trafficking syndicates such as those people who use overseas Filipino workers (OFWs) as medium of illegal drug trading outside the Philippines.

Gen. David also promised to fight and cleanse the corruption in the Bureau of Immigration. And for those who engaged in these corruption, Gen. David assured them the needed investigation and due process.

He will make reforms after familiarizing and careful study of the operations in the Bureau of Immigration. It would take time and then he will report the recommendations to the President and Secretary of Justice.

Gen. David planned to talked to Rolando Ledesma, former officer-in-charge of Bureau of Immigration, who administered the deportation of 14 Taiwanese to China. The 14 Taiwanese are proven fraud suspects and caused a conflict between the Philippines and Taiwan.

There are many criticisms in Gen. David's new job but he remained calm and ready to do the job. He said that nothing is wrong with the appointment of a retired Arm Forces of the Philippines (AFP) chief to a civilian post.

Warning! When posting comments, strictly observe correct spelling. Avoid incomplete words such as TY (as Thank You), Pls as Please, gud as good, dpt as dapat, etc. You can comment in English or Tagalog. If you will not follow this simple instruction, your comment(s) will not be accepted or published.