The
Department of Education
(
DepEd
), in collaboration with Smart Communications, Inc. through its implementing partner, the Philippine Business for Social Progress (PBSP), will conduct the Content Generation and Web Development Training for selected public elementary and high school teachers, pupils and students on the following schedule and venues: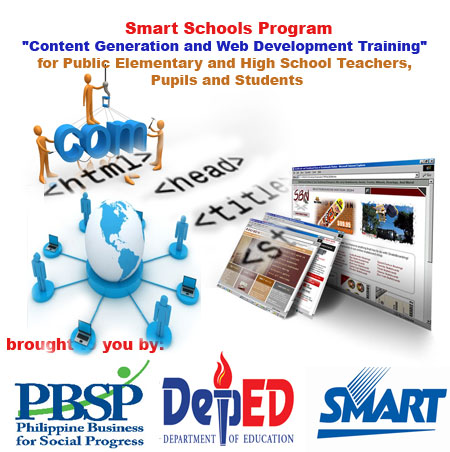 Picture of Smart Schools Program "Content Generation and Web Development Training" for Public Elementary and High School Teachers, Pupils and Students
| | | |
| --- | --- | --- |
| Region | Schedule | Venue |
| Luzon | May 2-6, 2011 | Colegio San Juan De Letran, Intramuros, Manila |
| Visayas-Mindanao | May 11-15, 2011 | University of San Jose-Recoletos, Basak, Cebu City (USJR) |
The training program aims to provide the teachers, pupils and students knowledge on local content and journalism, which subsequently develop their skills on website design and publishing.
The participants from the participating schools (Please see below LIST OF PARTICIPATING SCHOOLS) are as follows:
Track

Participant

Pre-requirement

Track A: Web Development

2 Teachers

ICT Coordinator or EPP/TLE Teacher or Webmaster(a teacher assigned to maintain the school's website), with good computer and internet skills


Track B: Content Generation

1 Teacher

Campus paper adviser or teacher of any subject (English, Social Science) with good computer and internet skills


1 Pupil

Incoming Grades V or VI pupils proficient in basic computer applications (i.e. internet, MS Office, etc.)


The training course will be conducted in two tracks:
Track A
on Content Generation and Development; and
Track B
on Web Development, which will run simultaneously on Days 1 to 4. On Day 5, participants from both tracks will collaborate and integrate their outputs to create a website for their respective schools featuring various aspects of community life. Please see
Enclosure No. 2
for the Program of Activities.
Enclosure No. 3
contains the Registration Form which will be accomplished by the School Principal, and
Enclosure No. 4
for Pupil Waiver to be signed by the Parent Guardian.
Attendance of participants shall be on official time only. All expenses (travel from school to training venue and vice versa, accommodation and meals) for the training shall be borne by Smart, Inc. through PBSP. It is understood that local arrangements shall be made such that the classes of the said teacher-pupil-student participants shall not be disrupted.
For more information, please contact Ms. Riza Horcasitas-Verano, Senior Program Officer, PBSP at telephone no.: (632) 527-7749, e-mail at rizahorcasitas@yahoo.com. or AJ Javier-Catungal, Project Officer, PBSP at telephone no.: (632) 527-7749, mobile phone no.: 0920-918-1371 or through e-mail at avjaviex~apbsp.org.ph/avj .javier@gmail.com.
List of Participating Schools
| | | |
| --- | --- | --- |
| 1 | Malabon ES | Malabon |
| 2 | Balele ES | Batangas |
| 3 | Bernardo Lirio Memorial School | Batangas |
| 4 | Binubusan ES | Batangas |
| 5 | Calulut Elementary School | Pampanga |
| 6 | CM Azcarate ES | Laguna |
| 7 | Dasmarinas ES | Cavite |
| 8 | Dona Consuelo Salazar Perez ES | Pangasinan |
| 9 | Francisco E. Barzaga Memorial School | Cavite |
| 10 | Humayao ES | Cavite |
| 11 | Hagan South CS | Isabela |
| 12 | Kasiglahan Village ES | Rizal |
| 13 | Ramona S. Tirona Mem. ES | Cavite |
| 14 | San Vicente CS | Pampanga |
| 15 | Tanauan North Central School | Batangas |
| 16 | Tanauan South Central School | Batangas |
| 17 | Tapia ES | Batangas |
| 18 | Pacita Complex NHS | Laguna |
| 19 | Sapang Bato NHS | Pampanga |
| 20 | Eduardo Cojuangco NHS | Tarlac |
| 21 | Buhangin CES | Davao del Sur |
| 22 | Cabantian ES | Davao del Sur |
| 23 | Kapitan T. Monteverde Sr. CES | Davao del Sur |
| 24 | Magallanes ES | Davao del Sur |
| 25 | San Roque CES | Davao del Sur |
| 26 | Dapitan City CES | Zamboanga del Norte |
| 27 | Cogon ES | Bohol |
| 28 | Tagbilaran City ES | Bohol |
| 29 | Ubujan ES | Bohol |
| 30 | Loboc CES | Bohol |
| 31 | Dauin CES | Negros Oriental |
| 32 | Maslog ES | Negros Oriental |
| 33 | Lapu-Lapu City CES | Cebu |
| 34 | Buagsong ES | Cebu |
| 35 | Dapa NHS | Zamboanga del Norte |