Known for its bloc-voting, the Iglesia Ni Cristo (INC) religious organization will celebrate its 98th founding anniversary on July 27, 2012. Like what they usually do every year, they will hold a special type of worship service called "Thanksgiving" or "Pasalamat", according to its members. They will also hold Grand Evangelical Missions in each district as part of the celebration. This year's theme focuses on "Puspusang Pagpapagalanap ng mga salita ng Diyos" (English:
Intense Propagation of the Words of God
). Since 1914, it has now grown into a largest independent church in Asia. It has now more than 5,000 congregations in the Philippines and more than 600 overseas. It spreads to 96 countries and territories and draws over 9 million followers in the Philippines.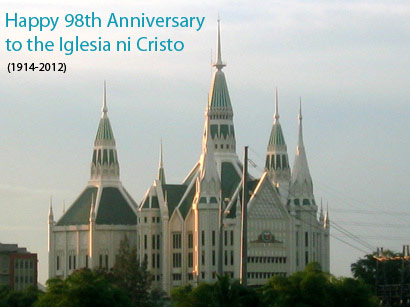 Iglesia Ni Cristo central temple in Quezon City, Metro Manila
The Iglesia Ni Cristo was said to be established by Christ through the instrumentality of Felix Y. Manalo as "Sugo". Manalo registered the Iglesia Ni Cristo in the Philippines on July 27, 1914, coinciding the start of the World War I.
Believe it or not, the Iglesia Ni Cristo greatly strengthens the morality of its members which has a positive impact of the economic condition of the Philippines. INC members are believed to be highly moral, hardworking, persistent and patient in their jobs.
Are you a member of the Iglesia Ni Cristo? Happy 98th Anniversary to all of you. May God blesses you more success.
What are your hopes and wishes in the Iglesia Ni Cristo 98th Anniversary?