Upon renewing your motorcycle registration, the Land Transportation Office (LTO) requires a smoke emission test certificate. That's why you need a smoke emission test of your motorcycle before going to the LTO Office for registration renewal. Here are some steps I did that will also guide you on getting a smoke emission test.
Step 1
If it's your first-time owning a motorcycle, you can ask your fellow motorists where to get an affordable smoke emission test. You should bring the following requirements/documents:
Photocopy of OR (Original Receipt) of the Motorcycle)
Photocopy of CR (Certificate of Registration of Motorcycle)
Original copy of Authorization or Permit to Use Temporary Plate (if you are using temporary plate)
The smoke emission testing center requires these documents.
Step 2
A representative (the MVECT Supervisor) from the smoke emission testing center will inspect and test your vehicle in 2-3 minutes:
Step 3
After this test, you will receive a copy of your test certificate called "Certificate of Emission Compliance".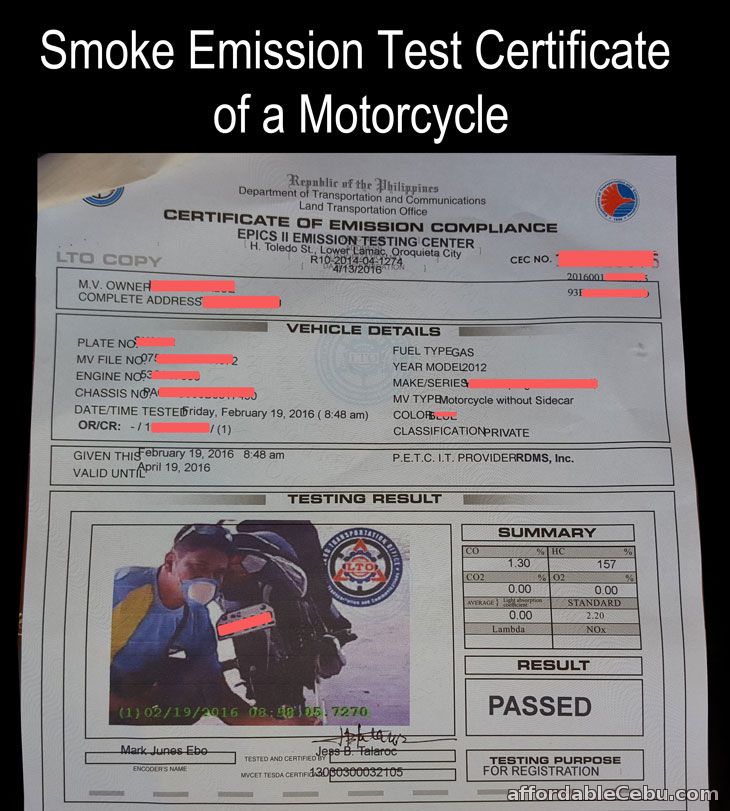 You will know that you passed the smoke emission test because you can see in the certificate the result is "PASSED".
Step 4
Pay the smoke emission test at the counter. In my case, I paid Php 350.00. Price may differ in your area.
That's it. But I have a few important tips to share below.
Tips
Aside from the "smoke emission test certificate", another requirement to submit to LTO is the "stencil copy" of your Vehicle's (motorcycle) engine number and chassis number. Some smoke emission testing centers are offering "stencil copy". Just ask an employee of the smoke emission testing center if they offer this service. Cost would range from Php20 to Php30.