---
BPI Banking Hours
The biggest bank in the Philippines in terms of market capitalization, BPI (Bank of the Philippine Islands) have many branches in the Philippines. Each branches may differ with their banking or operating hours.

BPI Banking Hours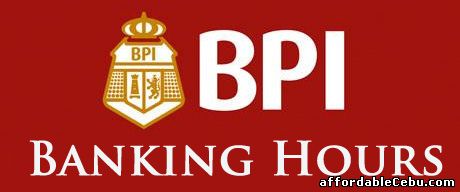 A typical BPI branch opens at 9:00am and closes at 4:30pm. This banking hours may change according to the number of clients a BPI branch is serving. So, the more clients a BPI branch has, the more banking/operating hours it allocates.
In malls, BPI banks usually open simultaneously with the mall's operating hours.
If you want to know the banking hours of a certain BPI branch, please tell us in the comment below. We'll be happy to answer your questions.
Or do you have any concern with BPI bank?
Warning! When posting comments, strictly observe correct spelling. Avoid incomplete words such as TY (as Thank You), Pls as Please, gud as good, dpt as dapat, etc. You can comment in English or Tagalog. If you will not follow this simple instruction, your comment(s) will not be accepted or published.