---
How to Track MLhuillier Money Transfer (Kwarta Padala) Transaction?
Tracking the money transfer transaction in MLhuillier is very important in order to know whether the receiver actually receive the money you've sent.

How can you actually track the money in MLhuillier Kwarta Padala service?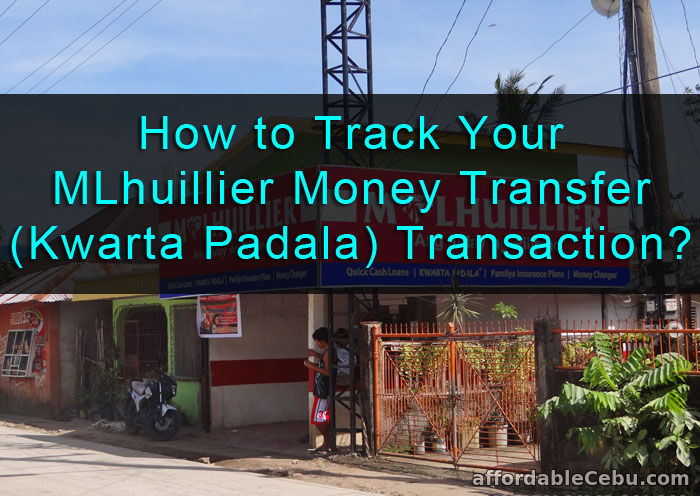 Option 1



If you're the one sending the money and you've entered both your phone number and your receiver's phone number in the send-out form, you will receive a text message that notifies you that the receiver claims your money at a particular MLhuillier branch.



Option 2



Another way of tracking your money in MLhuillier is by calling MLhuillier Customer Service: Prepare your KPTN number. The customer service agent will need that number.



Option 3



Send your concern including your KPTN number to MLhuillier Customer Service Email Address:
customercare@mlhuillier.com
Recommendations/Suggestions
Could it be more convenient to track or trace your MLhuillier Kwarta Padala transaction online? Online tracking of the transaction would really help internet users (using desktop, laptop, tablet, phone). Just like LBC tracker in which you can track your package online.
Android app or IOS app for tracking MLhuillier Kwarta Padala transaction could also be useful.
​
Do you have any suggestions or recommendations in improving the tracking system of MLhuillier?
Are you having any problem with tracking your MLhuillier Kwarta Padala transaction?
Warning! When posting comments, strictly observe correct spelling. Avoid incomplete words such as TY (as Thank You), Pls as Please, gud as good, dpt as dapat, etc. You can comment in English or Tagalog. If you will not follow this simple instruction, your comment(s) will not be accepted or published.
Total comments: 1

0

Spam
1
Joel Maghuyop Lizo
(25 December 2016 5:37 PM)
Hi ML,

Good day!

Its a Christmas day. I just want to ask for help that this January 3,2017 its my mother birthday and I want her to surprise that I am the one who give her money in your branch to surprise her. Its a lifetime opportunity to me to surprise my mother. And matagal na din ako sa mluillier nagpapadala sa kanya since I am college.

Please help me just once lang po. Merry Christmas and prosperous new year to ML family and staff.

PS. For the reply txt me 09157501274 and Joel Isaiah is my fb account.