---
A Frog-Like Baby Born in Nepal
5 years ago, there was a frog-like baby born in Nepal but died half an hour after his birth. You could feel pity on the baby. His father didn't even care with the baby's death and proudly present them to the people around him in the street.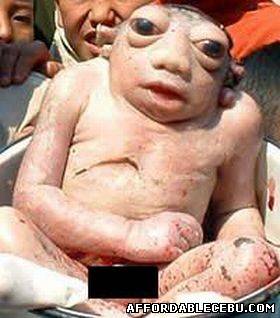 Picture of the frog-like baby


This odd-looking baby was born in Charikot, Nepal. Huge number of people are very curious and wanted to see the how bizarre the baby looked like.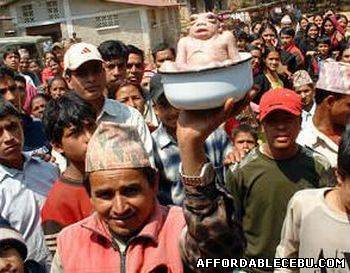 (Picture) Frog-like baby is presented to the people in the street.


The baby is neck-less with its head sunk in the upper part of the body and its big eyeballs popped out in his eye socket. This extraordinary baby was born Nir Bahadur Karki and Suntali Karki at the Gaurishnkar Hospital in Charikot.

Unfortunately this extraordinary baby died half an hour after his birth, the mother said. Then the baby was taken to the hospital after his death. News about the baby spread like wildfire. And a large crowd personally went to the hospital to see the baby. The policemen found it difficult to control the growing number of people wanted to look at the bizarre baby.

Suntali, the baby's mother, is normal. She bore the baby after a normal nine-month gestation period. She didn't even have illness during his pregnancy with the baby. Nir Bahadur, the baby's father didn't feel any remorse or the baby's death. He's happy that nothing happend to his wife.
Warning! When posting comments, strictly observe correct spelling. Avoid incomplete words such as TY (as Thank You), Pls as Please, gud as good, dpt as dapat, etc. You can comment in English or Tagalog. If you will not follow this simple instruction, your comment(s) will not be accepted or published.