---
FEMALE DORMITORY FOR RENT-AVAILABLE BED SPACES AT AFFORDABLE RATES
Ad Type: For Rent | Location: Cebu City
| Views: | Comments: | 09 January 2017
Affordable, Clean and Safe Dormitory. Ideal for working professionals, students and reviewers. Exclusive to FEMALE lodgers only.
Our location is very convenient and accessible for public commute. We are just close to several Department Stores, Fast Foods, Local Restaurants and Coffee Shops.
Walking distance to biggest Universities in Cebu, UC, USJR and USC. We are near to several Review Centers in Cebu. 1 ride going to Ayala, Sm Cebu, SM Seaside, Robinson's Galleria, IT Park, Park Mall, Country Mall and Pier 1-3.

RATES:
AIRCON ROOM:
• 2500/head good for 4 persons.
NON-AIRCON ROOM:
• 1500/head good for 6 persons. – Interior
• 1850/head good for 4 persons. – Interior
• 2000/head good for 4 persons. – Large rooms with windows.

RENTAL TERM:
• Minimum of 4 months for non-aircon room.
• Minimum of 6 months for aircon room.

Required 1-month advance and 1-month deposit before transferring.
Once sign the agreement, strictly no cancellation and no refund of the payment.

Inclusions:
- Free water for bath only. Additional charge for washing of clothes.
- Aircon rooms has own meter for electricity charge per month.
- Free lights for non-aircon rooms. Additional charge for bringing rice cooker, electric-fan, laptop, water heater, etc.
- Free 1 electric-fan for interior rooms.
- Free cable TV.
- Wi-Fi access is available with charge.
- Individual locker with key.
- Table and chair.
- Bed without foam. You should provide your own sleeping mattress.
- 14 common Toilet and Bath with Shower inside.
- 10 common sinks.
- NO curfew.
- With Security Guard from 11PM to 7AM.

LOCATION: 3rd Floor Cebu Columbia Bldg., Colon St., Cebu City. Facing Colonnade Supermarket and beside Super Metro Colon.
For more inquiries, please contact: 09330102270 for Sun and 09976850815 for Globe. You can call us also on our landline # 416-3167.
LIKE US ON FACEBOOK for more pictures: Queen's Dormitory

Subject to change without prior notice.
Pictures
---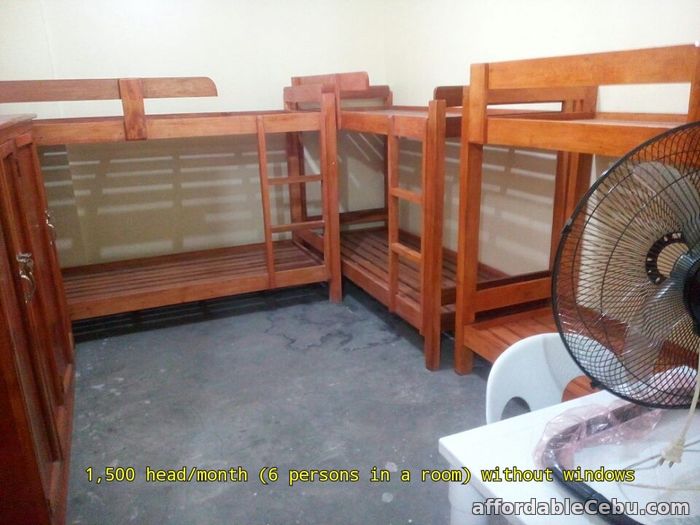 Share this Ad