Are you bored in waiting for your Metrobank Credit Card Statement of Account (in paper form)? Delivery might be delayed. Due date is getting near. Put your worries aside. You can receive your statement of account on time. And you can inquire your credit card account balance through Metrobank's online banking facility. Follow the steps below on how to check your credit card balance online:
Step 1
For first time users of Metrobank online banking (called
MetrobankDirect
), you must enroll first to Metrobank's online banking facility. To enroll, go to Metrobank's official website (
https://www.metrobank.com.ph/
). On Metrobank's homepage, click the
Enroll now!
link which can be found at the upper-right side and contained inside the MetrobankDirect Online Banking log-in box.
Step 2
You will be redirected to a new page and select CREDIT CARD (the account you would like to enroll on Metrobank's online banking facility). Then, click
Continue
button.
Step 3
Fill-out the Enrollment Form.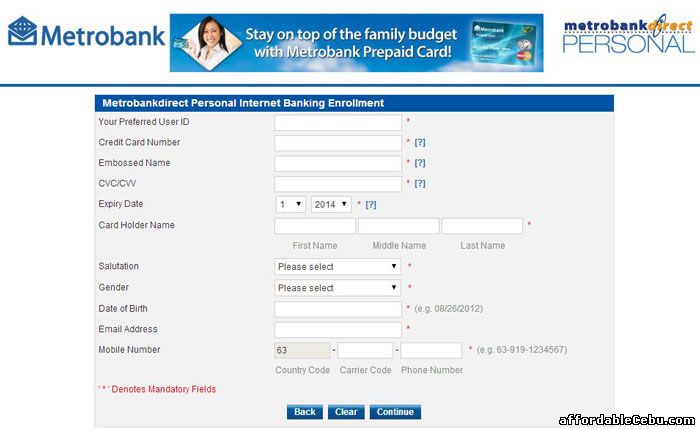 Details in the Enrollment Form:
Your Preferred USER ID - user ID might be combination of letters and numbers (alphanumeric)
Credit Card Number - can also be found at the front of your credit card (encircled below)

Embossed Name - the name embossed or printed at the front of the credit card.
CVC/CVV - CVC and CVV refer to the same thing. CVC stands for Card Verification Code and CVV stands for Card Verification Value. These are the numbers found at the back of the credit card.

Expiry Date - can be also found at the front of the credit card.

Card Holder Name
Salutation
Gender
Date of Birth
Email Address
Mobile Number
After filling-out the form appropriately, click the Continue button. Then follow further prompts/instructions. Metrobank will send you a message on your email that notifies the enrollment of your credit card to Metrobank's online banking facility. A Metrobank customer service agent will verify the enrollment. Wait for 3 to 5 banking days. Then Metrobank will send you message that the credit card enrollment has been verified and successful.
When credit card enrollment is successful, you can now log-in to MetrobankDirect (Metrobank Online Banking facility) and view your credit card balance anytime and anywhere.
Main Benefits of Enrolling Your Metrobank Credit Card to MetrobankDirect (Metrobank Online Banking)
Access or view your Credit Card balance, statement of account and transaction histories for free.
Enroll your other Metrobank Credit Card inside MetrobankDirect.
Pay bills (electricity, water, internet, landline, other utilities, SSS, PhilHealth, etc.) using your credit card.
Transact other online banking activities...
Do you have any other concern or problem with your Metrobank Credit Card?