Do you want a lazy way to access or inquire Unionbank account balance? You don't need to fall in line in the ATM (machine) just to access your Unionbank account. You can access it online anytime and anywhere if you have a computer or phone connected to the internet. Want to know how?
Just enroll your Unionbank account to Unionbank's online banking facility. After successful enrollment or registration, you can access or inquire your Unionbank account balance online. To enroll your account, you can follow the steps below.
How to Enroll or Register your Unionbank Account to Unionbank's Online Banking Facility?
Step 1
Go to the official website of Unionbank [ https://www.unionbankph.com ]. Click the "
ACCOUNT LOGIN BUTTON
" with the padlock icon. And choose your type of account (e.g. PERSONAL eBanking, EON CyberAccount, Unionbank Credit Card, GSIS ECARD, etc.):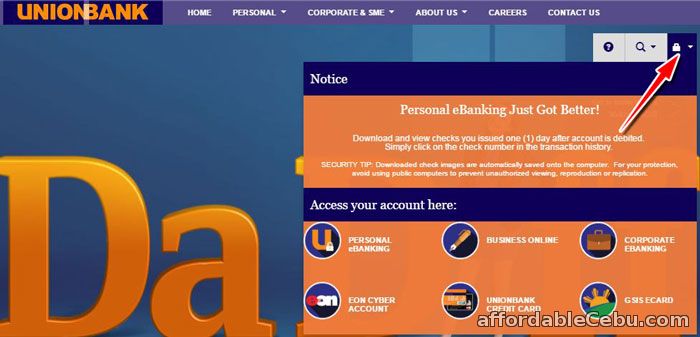 If you have a regular individual Unionbank savings account. Choose PERSONAL eBANKING. If you have an EON account, choose EON CYBER ACCOUNT.

A pop-up window will open which is the LOG-IN/REGISTRATION PAGE.
Step 2
On the LOG-IN PAGE, click the
REGISTER NOW
button:
Step 3
Choose which type or Mode of Registration you want:
Register using your ATM Card - select this if you have an ATM card on hand.
Register without ATM Card - select this if you didn't able to carry your ATM card.
Step 4
Continue the registration process. Just fill-out the forms and you're good to go.
After successful registration, log-in to your account and you can now view your account balance and access other useful online banking features.
Screenshot Inside Unionbank Online Banking Website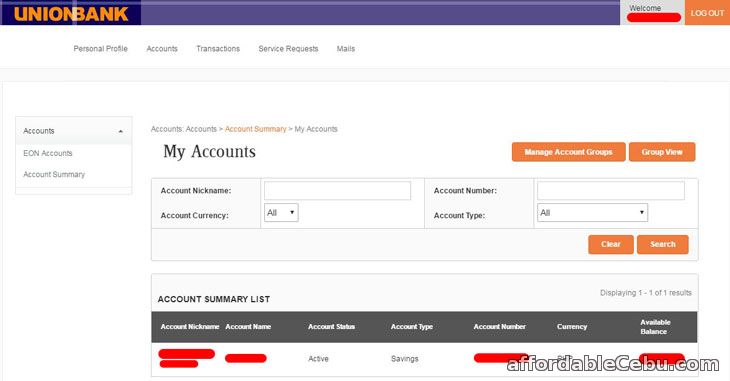 Other features you can use in Unionbank online banking are:
View transaction history
Fund Transfer - you can transfer funds/money from your Unionbank account to the person's Unionbank account
Pay bills online - you can pay your bills (e.g. PLDT/Globe bill, Electric bill, Credit card bills, etc.
Enroll a credit card
Request ATM/Credit card replacement
Request New checkbook
Ask help to Unionbank customer service thru email.
etc...
Do you have problems accessing your Unionbank account? Tell us in the comment below.