---
Learn Mandarin Language
Ad Type: Looking For | Location: Cebu City
| Views: | Comments: | 18 December 2013
Why and how to learn Mandarin?
Every day we wake up with the growth story of India and China. The whole world is keenly following this 'race to the top of the economic world'. On standalone basis, India is doing a great job, but when compared with China its growth story does not seem so alluring.
With China's economy growing at an unbelievable rate, anyone who can communicate in standard Chinese (Mandarin) is set to enjoy a huge advantage in the international world of business in the future. China is also a big country offering a wealth of exciting travel experiences, and if you know some Chinese it will help you get by and get more out of your trip.
TOPIC INCLUDES:
ü  Reading, practice conversation and speaking
ü  Characters recognition and memorizing characters
ü  Learning vocabulary
ü  Learning correct grammar
ü  Writing Chinese characters – radicals, basic strokes, stroke order and meaning.
ü  Phonetics (Pinyin) – vowels and consonants
ü  Understanding four tones
ü  Daily conversations situations – greetings, introduction, restaurant – ordering food, shopping, taxi, telephone coutesy, visiting places, etc.
ü  Learn Chinese culture and history
STUDENT PREVILAGE AT FIRST ALLIANCE:
UNLIMITED SIT-IN
FREE USE OF WIFI
FREE USE OF BOOKS IN OUR LIBRARY
FREE USE OF AUDIO/VISUAL ROOM FOR LISTENING ACTIVITIES
FREE MANUAL; COMPACT DISK FOR LISTENING; COMPILATION OF VOCABULARIES
FOR ONLY 2,500 PESOS ONLY
30 HRS MANDARIN LANGUAGE
FIRST ALLIANCE ACADEMIC INSTITUTE INC.
Unit 318-320 Victoria Bldg. 11th Avenue Gracepark Monumento Caloocan City
(60 sec. walk from LRT Monumento Station, near Mercury Drug 11th Avenue facing BDO and Equicom Bank and Infromatics.)
 TEL. NUMBER (02)3760922
0908-2541622/ 0915-1138373
Pictures
---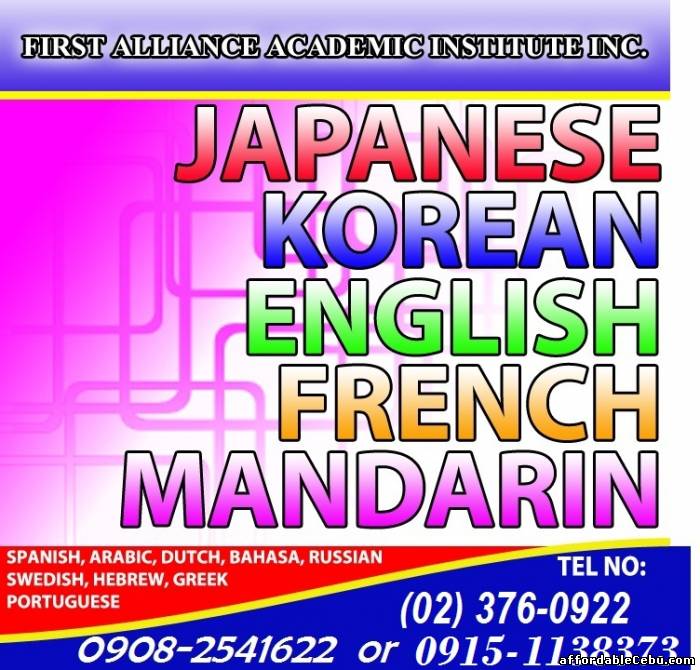 Share this Ad