---
BEST & AFFORDABLE CULINARY SCHOOL - APICIUS CULINARY ARTS & HOTEL MANAGEMENT INC.
Ad Type: Offer | Location: Outside Cebu
| Views: | Comments: | 14 April 2015
ENROLLMENT IS STILL GOING ON !!!
PASIG CATHOLIC COLLEGE in Cooperation with Apicius Culinary Arts and Hotel Management
We are NOW OPEN FOR ENROLLMENT on our Upcoming Classes "DIPLOMA IN COOKERY" and "COOKERY NCII" On the following schedules :
1. DIPLOMA IN COOKERY
April 20, 2015 - Mon.-Sat. (2pm-6pm)
2. COOKERY NC II
April 21, 2015 - Tue., Thurs., Sat. (8am-2pm)
So what are u waiting for ? MAG-ARAL AT MAGTRABAHO !
ENROLL now for our upcoming class on April 2015 and get a SPECIAL RATE for the first 10 students.
comments and questions ??
Feel free to contact us.
Email address: apiciuspasig@gmail.com
or contact us on
Smart: 09088638361
Globe: 09178777050
‪#‎apiciusculinaryartspasig‬
‪#‎pasigcatholiccollege‬
‪#‎bestculinaryschoolinpasig‬
Pictures
---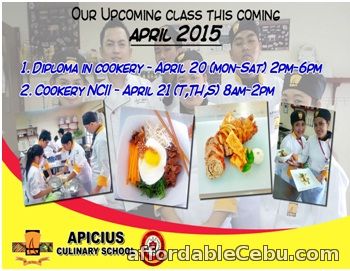 Share this Ad