---
SAGE 50 Accounting Software and Software Customization Service for your Business
Ad Type: For Sale | Location: Catmon
| Views: | Comments: | 21 May 2018
Why choose Sage 50?

-Sage 50 Supports you like no one else
-Advice that adapts to your needs
-Insights that help you make better decisions
-Accounting principles that give you the most accurate financials
-In-depth audit and security functions to protect your data(and your money)
-Customized dashboards and management centers so you stay in the know
-Strong inventory management that helps improve the bottom line
-Project and job management tools to help increase profitability
-Accounting solutions from Sage that grow with you
-Additional Services for Expanded Functionality

We Offer:

-Sage 50 Pro Accounting (Available in Single user only)
Easy to use, basic accounting
-Sage 50 Complete Accounting (Single, 3 and 5 users)
Organize and manage your business
-Sage 50 Premium Accounting (Single, 3 and 5 users)
Expertly manage your expanding business
-Sage 50 Quantum Accounting (5, 10, 15, 20, 30 and 40 users)
Enterprise-level business management

WE ALSO OFFER SOFTWARE CUSTOMIZATION

We are also in line with customizing software application and modules that your business is requiring and needing. We design and formulate and design modules intended for documentation purposes of your data base. We produce and program software that will give ease to your business processes and daily production. This service is available to all varieties of business need that requires an aid for automation of all processes required in your institution or business such as enrollment, payroll, record management, company's management information system, and other like. You're just one call away from us, then here comes your needed service!
 

For more info, inquiries and quotation, you may reach us: 

0977-082-5212

 

and look for Ms. Gemma. 

We can conduct demonstrations and training to evaluate our products so that we can provide the right accounting system for your business. We also have forms and reports customization and payroll system software.  
Pictures
---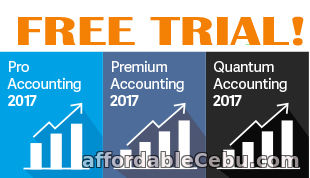 Share this Ad