A question coming from Elmer,
"I would like to seek assistance on how to get the statement of account. I'm currently working outside the Philippines."
Aside from requesting your BDO statement of account in a BDO branch, you can also get one online or thru
BDO online banking
facility....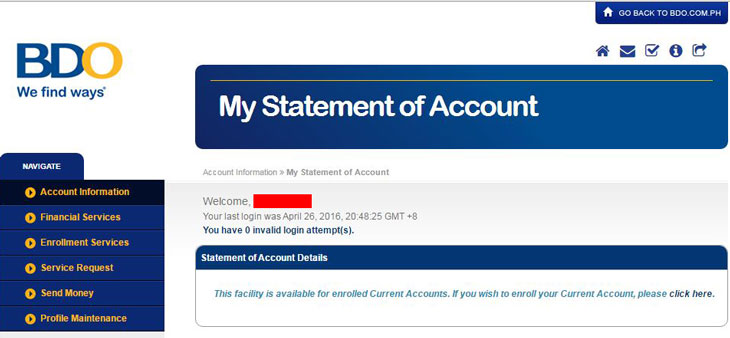 To apply for BDO online banking this article might help you:
After you successfully enrolled to BDO's online banking facility, log-in to your account and go to Account Information --> My Statement of Account or My Transactions.
Thru BDO online banking, you can also access a lot of very useful features such as Fund Transfer, Bills Payment, Mobile Phone Reload, BDO Cash Card Reload, Wallet Reload, Checkbook reorder, Send Money to Another Local Bank, Send Money for Pick-up at BDO branch, Send Money Door to Door, etc...
A lot of things you can do with BDO online banking. Accessing your BDO account online is free (no hidden charges).
Do you have any other concern regarding your BDO statement of account?