Top 10 Banks in the Philippines 2011
Do you want to know which are the top banks in the Philippines? Among the top 10 banks in the Philippines in terms of assets and deposits, Banco de Oro (BDO) continuously holds the first rank until the 2nd quarter of year 2011. BDO accumulated a total of 1,036.3 billion pesos worth of assets and a total of 801.4 billion pesos worth of deposits in the 2nd quarter of 2011.



In terms of assets, Citibank got the lowest (10th) rank accumulating a total worth of 219.9 billion pesos. While in terms of deposits, the Allied Bank also got the 10th rank accumulating a total of 146.5 billion pesos.

Below is the complete list of the top 10 banks in the Philippines in terms of assets and deposits. All figures are based on published statements of condition of each bank.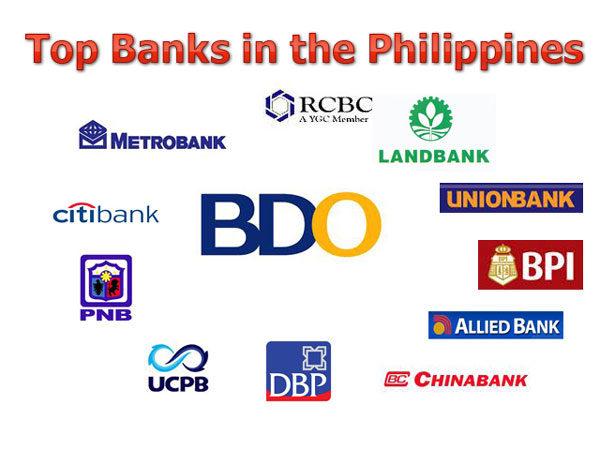 Top 10 Banks in the Philippines in Terms of Assets

Name of Bank

2011 (2nd Quarter)
in billion Philippine pesos

Year over Year Change
in %

Market Share
in %

1. BDO

1,036.3

18.4

15.5

2. Metrobank

962.0

17.5

14.4

3. BPI

845.6

11.2

12.6

4. Land Bank

610.5

15.1

9.1

5. PNB

334.0

12.3

5.0

6. DBP

307.1

8.1

4.6

7. RCBC

303.3

7.1

4.5

8. China Bank

235.0

0.7

3.5

9. Union Bank

233.1

(1.7)

3.5

10. Citibank

219.9

9.2

3.3

Top 10

5,086.7

12.5

75.9

Industry

6,703.0

12.2



Top 10 Banks in the Philippines in Terms of Deposits

Name of Bank

2011 (2nd Quarter)
in billion Philippine pesos

Year over Year Change
in %

Market Share
in %

1. BDO

801.4

15.9

16.5

2. Metrobank

709.9

20.6

14.6

3. BPI

691.4

9.3

14.2

4. Land Bank

479.8

17.4

9.9

5. PNB

245.6

9.5

5.0

6. RCBC

214.3

2.4

4.4

7. China bank

191.2

(1.1)

3.9

8. Union bank

182.9

(5.9)

3.8

9. UCPB

151.1

9.8

3.1

10. Allied Bank

146.5

(2.8)

3.0

Top 10

3,814.1

11.2

78.3

Industry

4,871.2

9.1



Warning! When posting comments, strictly observe correct spelling. Avoid incomplete words such as TY (as Thank You), Pls as Please, gud as good, dpt as dapat, etc. You can comment in English or Tagalog. If you will not follow this simple instruction, your comment(s) will not be accepted or published.
Total comments: 12
12
mae
(14 March 2013 8:45 PM)
hi, good day , im seeking for a good bank... I'm here abroad. I am planning to have an account through exchange money padala. Which is better; metrobank or rcbc. I want to ensure my money to be safe and I'm hoping not get any trouble if I'm already in the Philippines. I need your advice.
11
kulasa
(31 October 2012 3:13 AM)
Which bank is the best to apply for a job today? In chinabank, they have 4 months bonus, teller allowance, rice allowance, medicine allowance.

Are they the same in BDO, Metrobank and BPI? Help me please. I'm planning to apply in other banks. thank you
10
athena19
(26 July 2012 12:19 PM)
corect thom. I agree with you. BPI -Let's make it easy. you can deposit, encash and withdraw any branches
9
myk
(21 June 2012 8:26 PM)
do you have any full year data? I need it for our management subject research. thanks!
6
thom
(24 May 2012 8:01 AM)
Being big is not always that good

If we are to observe the banking industry of our country, we'll find BDO Unibank (BDO) as the largest bank in the country with a total resources of close to Php1.1 Trillion, but finds it at third place in terms of the market value with a market value of just Php179 billion trailing Metrobank Trust Group (MBT) with Php191 billion and the market leader Bank of the Philippine Islands (BPI) with Php268 billion.

The reason why BPI leads in the market value table despite ranking third in the total resources table is that it has been able to deliver industry leading performance.

Numbers speaks for itself. Investors doesn't care how big you are, what do they care about is your ability to deliver profits for the company along with rewarding them with the dividends being paid by the company to them.

Financial Performance

In terms of the ability to deliver profits, BPI is the industry leader. In 2011, BPI booked a profit of Php12.8 billion with just total resources of Php752 billion thus delivering a solid performance with a ROA and ROE of 1.6 percent and 15.2 percent respectively. While MBT ranked second with a profit of Php11 billion that translates to a ROA and ROE of 1.2 percent and 11.17 percent respectively. BDO on the other hand had booked only Php10.5 billion in profits despite having more than a trillion pesos on its balance sheet thus translating to a ROA and ROE of 1 percent and 11.4 percent respectively.

Financial Operations

In terms of managing its resources prudently, BPI once again is the industry leader. Its 30day and 90day Non Performing Loans (NPL) Ratio is below the industry average. The NPL are the loans that are considered at risk and close to a default. BPI's NPL for 30 days and 90 days is 1.9 percent and 2.5 percent respectively.

Thus BPI only recognized Php2.150 billion as impairment charge in 2011 compared to the Php3.823 billion and Php6.144 billion impairment charge recognize by MBT and BDO respectively.

Dividends

Investors are very much attracted to those companies which pays regular dividends and not just regular dividends but huge dividends. BPI among the top three banks in the country is the most generous in giving up dividends yearly. BPI had given up Php21.289 billion as dividends for the past three years while MBT and BDO had paid Php5.859 billion and Php6.263 billion as dividends respectively for the past three years.

Stronger Capital Structure

The reason why BPI manages to pay that big in terms of dividends is because it has a more stable capital structure than the other two MBT and BDO. Retained earnings is vital component of the Tier 1 or Core Capital Ratio along with the share capital of the company. It's a domino effect as you pay dividends you're Tier 1 ratio gets depleted and will be replenish through the recognition of profits.

The Tier 1 ratio of BPI is much stronger than BDO with a Tier 1 ratio of 13.1percent compared to the Tier 1 ratio BDO of 10.2percent. Although MBT's Tier 1 ratio of 13.7 percent is higher than BPI's Tier 1 ratio, BPI has more retained earnings than MBT with a Php41.643 billion compared to the Php35.986 billion of MBT. That's the reason why BPI managed to pay more dividends than MBT.

Even in the United States, it shows that being big will not always please the investors as JP Morgan the number 1 bank in terms of assets trails Wells Fargo as the most valuable financial institution in the US.
5
jlt
(16 May 2012 9:48 AM)
BPI, although #3, has always the largest net income...galing naman nila...
4
mark
(13 May 2012 7:05 PM)
BDO should remove the inter-branch deposit charge. Since they have so many branches, they're not at loss to remove the charge.
3
Anonymous
(07 May 2012 12:40 PM)
I agree of the top three banks without a doubt.But services should also be considered in choosing banks.BDO in its commercials are focusing in " WE FIND WAYS".But in what ways?During salary days most BDO banks are either offline or unavailable which on most cases creates long lines during withdrawals...PLEASE FIND WAYS IN IMPROVING YOUR SERVICES MR. HENRY SY!!!
2
Liz
(28 April 2012 12:47 PM)
That's true. Why does BDO have to charge for interbranch transactions when other banks like BPI charge nothing? The bank's system is online, so what is the charge for? But still, you can never go wrong with the three banks.
1
thom
(28 March 2012 12:48 PM)
I got accounts on three largest banks, even though BDO is the largest bank in terms of asset, deposits etc., still, its services are quite dull as compared to BPI and Metrobank.