The House of Representatives published on Thursday the summary of the Statement of Assets, Liabilities and Net worth (SALN) of its members (congressmen).
The Filipino world champion professional boxer Manny Pacquiao, the Sarangani Representative, remained the richest congressman in the Philippines with a net worth of Php 1.6 billion.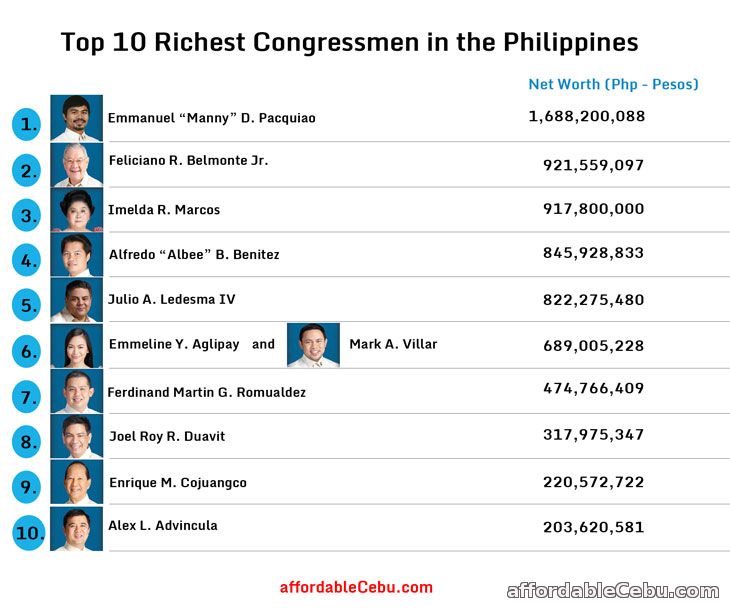 Figures are gathered from congress.gov.ph
You can download a copy of this in pdf and image format by clicking the link below:
Here's the List of the Top 10 Richest Congressmen in the Philippines:
Emmanuel "Manny" D. Pacquiao - Php 1,688,200,088
Feliciano R. Belmonte Jr. - Php 921,559,097
Imelda R. Marcos - Php 917,800,000
Alfredo "Albee" B. Benitez - Php 845,928,833
Julio A. Ledesma IV - Php 822,275,480
Emmeline Y. Aglipay and Mark A. Villar - Php 689,005,228
Ferdinand Martin G. Romualdez - Php 474,766,409
Joel Roy R. Duavit - Php 317,975,347
Enrique M. Cojuangco - Php 220,572,722
Alex L. Advincula - Php 203,620,581
Pacquiao's declared personal properties amounted to P734 million, his total assets at P1.8 billion, while P155 million he declared as liabilities.