DESCRIPTION
Issuance of tax declaration for newly declared properties of for transfer of ownership.
(This is applicable only in Cebu, Philippines).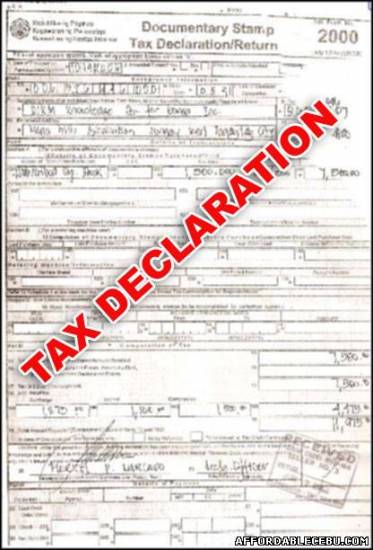 (Picture) Tax Declaration Sample.
(Note: This is only a sample. The actual Tax Declaration Form may differ from this.)
CLIENT/S
 Property Owners or their representative
CONTACT PERSON/S
Wilhelma Borgonia
Contact/Telephone Number: 253-1099 / 412-0000, local 303
LOCATION
3rd Floor City Asessor's Office
Annex Bldg., Cebu City Hall
AVAILABILITY
Monday to Friday, 8:00 AM - 5:00 PM
DURATION OF THE SERVICE
6 working days
REQUIREMENTS
Properties declared for the first time

Completely filled out Real Property Assessment Request Form
Certificate of Occupancy or Building Permit
Tax Declaration of the land
Latest Tax Clearance Certificate of the land
Certificate of house ownership form the Brgy.
Affidavit of legal heirs with lot consent (if dead)

For Transfer of Ownership

Completely filled out Real Property Assessment Request Form
Certification Authorizing Registration (CAR) from BIR
Deed of Sale / Certification of Sale / Affidavit of consolidation
Transfer Certificate of Title / Original Certificate of Title
Transfer Tax receipt from City Treasurer's Office
Tax declaration of the land and latest Tax clearance Certificate of Land
PROCEDURES ON HOW TO SECURE OR GET TAX DECLARATION IN CEBU
1. Submit requirements. Approach the person-in-charge (facilitator). He/she will receive and check the completeness of supporting documents and records the transaction in the logbook and forwards the transaction to the DIC (District in Charge)
2. Arrange for date and time of inspection
3. Guide the Tax Mapper and DIC to the inspection site.
4. DIC schedules inspection
5. DIC prepares field appraisal assessment sheet (FAAS)
6. GIS clerk updates record
7. Computer section encodes data and prints Tax Declaration
8. Tax Declaration is submitted to signatories (DIC, Tax Mapping Head and City Assessor).
Source: Cebu City Citizen's Guidebook
This information appeared first on the 2009 Version of the Cebu City Citizen's Guidebook published by the Cebu City Government through the efforts of the Mayor's Management Team.