Here are the essential information and steps on how to apply for Late Registration of Death in Cebu, Philippines.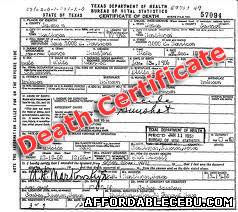 (Picture) This is only a sample Certificate of DeathThe actual Certificate of Death (COD) of Cebu may differ from this.
DESCRIPTION : This service caters to applicants for delayed filing and registration of deaths.
CLIENT/S : Relatives of deceased or Authorized representative
CONTACT PERSON/S:
Atty. Evangeline T. Abatayo, Civil Registrar
Louella N. Dejito , Registration Officer
Contact/Telephone Number: 232-6664

LOCATION : Office of the City Civil Registrar (OCCR) Cebu City
AVAILABILITY:  Monday to Friday, 8:00 AM - 5: 00 PM
DURATION OF THE SERVICE:  10 days & 38 minutes
REQUIREMENT/S:
Accomplished Certificate of Death (COD) in four copies, original signatures affixed;
Backside of COD  (Affidavit  for Delayed Registration of Death) must be accomplished and notarized or subscribed by authorized Officer;
Certificate of No Record issued by Civil Registrar;
Negative Certification issued by National Statistics Office;
Death Certificate issued from the church;
Affidavit executed by the Hospital/clinic the nearest relative or the person having administrator  or attendant at death if death occurred in the said institution or under  the care of the attendant; In default of the  aforementioned the Affidavit shall be executed by the default, shall be executed by charge of the patient.
FEES (How much to pay for Late Registration of Death):
Late Registration fee ..................P 250.00
'Death' Form fee .....................P   50.00
PROCEDURES IN SECURING OR GETTING AN APPLICATION OF LATE REGISTRATION OF DEATH IN CEBU
Follow these steps…

Wait while Person-in-
charge…

Approach…

It will take…

1. Submit accomplished Certificate of Death (COD) and supporting papers  to  Window 9 (Delayed Registration)

1. Receives and assess papers

Glenn
Morales

13 minutes

2. Pay fees at Window 3

2. Issues Official Receipt (OR).

CTO personnel

10 minutes
4. Submit O.R. to Death Registration section.

3. Logs OR.
4. Issues return slip.

Glenn
Morales
10 minutes

5. Get return slip for scheduled release of COD-copy after 10-day posting

5. Posting of Delayed Registration for 10 days per Adm. Order 1, s. 1993

10 days
6. Get approved copies of COD

6. Releases COD-copy.

5 minutes

Source: Cebu City Citizen's Guidebook
This information appeared first on the 2009 Version of the Cebu City Citizen's Guidebook published by the Cebu City Government through the efforts of the Mayor's Management Team.