Here are the essential information and steps on how to register deaths in Cebu, Philippines.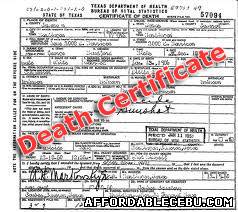 (Picture) This is only a sample Certificate of Death
The actual Certificate of Death (COD) of Cebu may differ from this.
DESCRIPTION :
This service caters to filing and registration of all registrable documents of death, judicial decrees and legal instruments updating records on file and keep and preserve them per Administrative Order 1, s. 1993 of Act 3753.

CLIENT/S : Relative of the deceased/authorized representative
CONTACT PERSON/S:
Atty. Evangeline T. Abatayo, Civil Registrar
Louella N. Dejito, Registration Officer
Contact/Telephone Number: 232-6664

LOCATION : Office of the City Civil Registrar (OCCR) Cebu City
AVAILABILITY: Monday to Friday, 8:00 AM - 5: 00 PM
DURATION OF THE SERVICE: 26 minutes & 30 seconds
REQUIREMENT/S : none
PROCEDURES IN REGISTERING DEATHS IN CEBU
Follow these steps…

Wait while Person-in-charge…

Approach …

It will take…

1. Submit accomplished Certificate of Death (COD).

1. Reviews COD entries according to guidelines.

Gemma Estrera

7 minutes

2. Assign Registry Number to COD and forwards COD for signatory.

3 minutes

3. Signs the COD.

Oscar B. Molo

15 minutes

2. Get copy of registration of death.

4. Clerk segregates and give copy to representative.

Gemma Estrera
1.5 minutes

Source: Cebu City Citizen's Guidebook
This information appeared first on the 2009 Version of the Cebu City Citizen's Guidebook published by the Cebu City Government through the efforts of the Mayor's Management Team.