Some of you might be curious to know how do other people earn money online or in the internet. You may heard others earning a descent income to support their family by means of blogging alone or by means of an online freelance job through Odesk. If you are a newbie and want to earn money online, it's highly recommended for you to read this article.
Do you really want to earn money online? Using only 20 minutes of your day? I ask you because If you don't have the motivation to make money online what's the point of reading the rest of this article?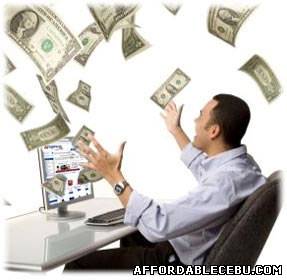 Earn Money Online by Posting an AD or Buying and Selling In Classified Ads Website
If you are now ready to know a secret I will share to you on how to earn extra huge money online using only 20 minutes of your day, then you must carefully read and understand the whole article.
Before I'll begin to reveal to you this secret, you must have these basic skills:
Computer skills: Basic minor skills only such as internet browsing and typing.
A Bit of Salesmanship: Earning money online is a business. You must have the art of how to sell anything. I know you have that skill. Just a few sales phrases to type can do big miracles to earn bigger than you expect.
I assume you have the above basic skills. Now, here's the secret. The secret that only few people know. This is not a blogging-type or freelance-job-type of earning money online.
If you are a newbie or start-up and want to earn money online through
blogging
, it can take up to 1 year before you can make few dollars ( you can receive either 10 to 50 dollars average income potential per month). Remember! It can take up to a year before you can receive that money. Ohhhh. That's so tiresome and very time-consuming. Not only that, you should know basic HTML code, a little SEO (Search Engine Optimization) and hundreds of ways to drive traffic in order to successfully blog. Don't panic with with the words "HTML" and "SEO". We are not going into blogging here.
And I almost forgot, maybe you found an interest in an online
freelance job
. Ohhh. Online Jobs are not for average newbies or start-ups. You might heard other successful online freelancers earning 500 to 1,000 dollars a month. Ohhh, that's great money but what you don't know is that the online jobs require you to have higher set of skills such as Fluent English Grammar, Basic HTML coding, Basic Website Know-How and many technical knowledge that the newbies like you don't know.
There's also one thing that blogging and freelance online job requires you to do. In order for you to receive the money you've earned from blogging and freelance online job, you need ONLINE BANKING. You have to set-up a local bank account in the Philippines and a Paypal Account or Alert Pay. And link those accounts for you to withdraw your money you've earned from blogging or freelance online job. That's tedious for newbies right?
So, now you know some basic concepts on how difficult it is to earn money in the internet. It's a hard way for a newbie, right? I know you don't want to do technical stuff like the bloggers and online freelancers do. You want the easy way, right?
Here's the easy way to earn money online. And it's 101% certified and guaranteed. And here's the catch... Have you heard of Ebay Millionaires? I guess you do. They become millionaires by buying and selling online in Ebay. Ebay is a website where you can post anything you want to buy and sell. Ebay Millionaires started as small. Some of them once lived in a 1-bedroom apartment, spent 20 to 40 minutes of their day posting and selling something in Ebay. Until their customer base as well as their stock inventories grew, they became what they are right now. The rest of the story is history.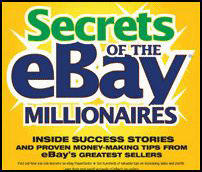 For newbies, this is a
great way of starting earning money online
. This is SO SIMPLE. Just 20 minutes of your day.
This is it. You can earn money
through posting anything you want to sell in a classified ads website
. If you have things,
books
,
appliances
,
furnitures
or stuff you don't need in your home,
post and sell it in a classified ads website
. What's more interesting in selling in a classified ads is you can earn extra huge income if you're selling a high value items such as
properties
or
cars
.
Commissions are high. You can earn as much as 100,000 pesos if you sold a 5 million-peso house and lot in a month, or 40,000pesos if you sold a 2 million-peso car.
This is just by posting an ad in a classified ads just 20minutes a day. It's a reality that you might not know.

Maybe you'll be amazed by this income and you might find it hard for you to sell a house and lot or a car. We'll, as a newbie, you should start small. Don't be afraid to take the first step in earning money online. "A journey of a thousand miles begins with a single step (Lau-Tzu)".
Start selling some stuff in your home. Or you can buy products from a wholesaler in a low price and sell it in the classified ads with a higher price to thousands of visitors in a classified ads.

Just think about this for you to start small. I have known many people who buy and sell something in a classified ads website. Take note. This is real: "If you buy an original cellphone from a wholesaler worth 2000 pesos and you post and sell it for 3000pesos in a classified ads website. How much could be your profit?" A 1000pesos profit.
If you post and sell it in a classified ads website and you've sold out 10 pieces of the same cellphone unit in 1 month, how much is your total profit? 10,000pesos right?
You can earn 10,000pesos in a month just by posting an ad using only 20minutes of your day. It's not bad for an extra income for an ordinary employee earning 9,000pesos in his/her job. I think you will no longer be an employee if you will just follow what I've told you.
You should take my words in your heart. It's worth to ponder. This is true. I have given you an idea. And it's up to you to follow it.
You'll be thanking me soon if you follow what I've told you.
Start selling some stuff in
AffordableCebu - Free Classified Ads Website
.
If you want to register in this site, and start posting ads,
CLICK HERE
.