Let me clear some things up. I'm not in any way affiliated to the dog food I'll mention. I don't work on any dog food merchants or manufacturers in the Philippines. And I'm not paid to write this article.
I'll just share my experience of using this dog food, no more, no less.
For a new dog-lover like me, it seems that finding the best, high quality and cheap dog food in the Philippines is a trial and error.
I have five dogs. They're not the big and foreign breed type of dogs.
My dogs are called in our dialect as "bisaya". My dogs are mixed breed of local and foreign.
But I have one dog which is a Japanese Spitz breed. We keep him inside our house. The rest are outside.
At first, we didn't know what type of food the dog should eat. For the sake of living, we just feed our dogs with cooked rice,  a soup, fish or a meat. Most of them are leftovers.
After 4 months, I observed that my dogs are not so big. Their muscles are not so firm. They grew so slow.
So, I decided to change their food. I went to a mall and bought a dog food named Woof Chunx.

You can buy Woof Chunx and other brands of dog food at an Agrivet Store or Agricultural Store or Mall.
Picture of 1 bag of Woof Chunx dog food that weighs 40 lbs. (18.18 kgs)
This is a dog food for maintenance diet. My dogs love this dog food. When it was completely consumed, I thought of changing another brand for testing purposes.
I bought another brand of dog food. It was slightly more expensive than Woof Chunx. 
I forget its brand name. I also observed that my dogs also love this kind of dog food. Like Woof Chunx, my dogs are healthy and muscles are firm.
But that dog food was completely consumed. I find another brand dog food, a cheaper one.
I don't know of its brand name. At the start, when I fed my dogs with this kind of dog food, it seems that my dogs didn't like it. They ate it but not like the way they ate the Woof Chunx dog food.
After it was all consumed, I bought another brand of dog food which is more affordable also. But the result is also the same, my dogs' appetite is low with this type of dog food.
I found out that more affordable dog foods are low in quality.
So I went back on using Woof Chunx dog food. I found out that my dogs' appetite is so high when eating Woof Chunx.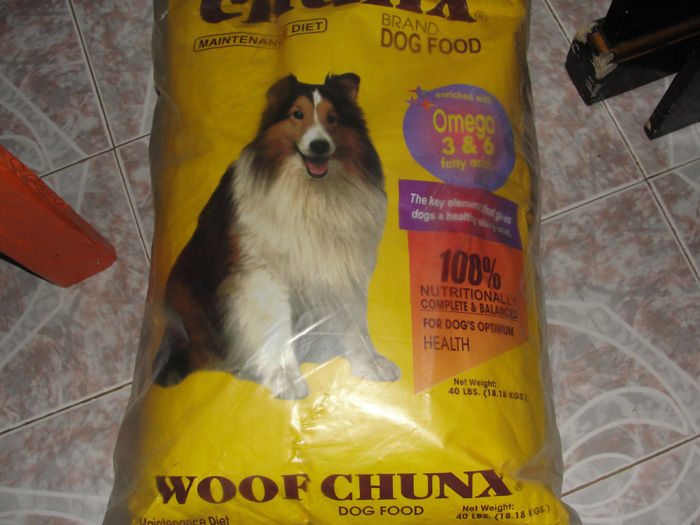 I usually bought this 40 lbs. (18.18 kgs) Woof Chunx dog food. This bag/sack of dog food is completely consumed in 1 month for my 5 dogs.
Until now, I stick of feeding up my dogs with Woof Chunx. I don't buy so expensive dog foods like Alpo.
I think Woof Chunx fits my budget and the food quality that my five dogs deserve.
In choosing the best dog food, it's important to determine some factors such as its nutritional value and its main contents or ingredients:
Woof Chunx's has improved and more nutrients compared to the more affordable dog foods that I bought. It has:
21% protein
5% fat
4.5% fiber
12% moisture
1.5% calcium
1% phosphorus
It's ingredients are:
Ground Yellow Corn
Corn Gluten Meal
Meat Meal
Heat Treated Soy
Bone Meal
Animal Fat and Oils with Omega 3 and 6
Calcium Carbonate
Hycaphos
Salt
and Essential Vitamins and Minerals
Woof Chunx claims to be 100% nutritionally complete and balanced for dog's optimum health.
Below is the description printed at the back of the Woof Chunx bag:
 

NUTRITIOUSLY SUPERIOR

 

Everytime your dog bites into Woof Chunx, he receives a nutritiously complete and balanced diet which contains the essential vitamins and minerals an active dog needs.

 

The amino acid balance (building blocks of protein), carbohydrate requirements, fat and fiber levels are all computer formulated to arrive at the precise composition of nutritiously superior Woof Chunx.

 

The special texturizing process transforms all the nutrients into easily available and biologically absorbable dog food, therefore making it highly digestible. This high rate of utilization and digestibility ensures that your dog will receive optimum nutrition for proper stool performance, skin and coat conditioning, excellent muscle, bone and teeth development, sound body maintenance, increased energy and maximum genetic potential.

 

Woof Chunx is committed to finding better ways of raising and caring for your dog. This commitment drives us to better and less expensive alternatives in Pet Nutrition. A commitment to deliver nothing but the best for your dog.  

 

 
Adjustment To A New Diet
Woof Chunx is a dry dog food. Dogs who consume soft, moist diets develop weak gums, teeth and jaw muscles. These dogs can easily be trained and conditioned to a dry diet.

 

Start with an initial mixture of 4 parts of Woof Chunx to 1 part water of his previous usual diet. Lessen the water of previous diet gradually after several days until your dog is fully adjusted to his dry diet.

 
Feeding Instructions of Woof Chunx Dog Food
BREED/WEIGHT
AMOUNT PER DAY
Toy Dogs:
Pekingese, Pormeranian, etc.
3-3 lbs.
1/2 to 1 1/2 cups
Smaller Dogs:
Dachshund, Beagle, etc.
14-20 lbs.
1 ½ to 2 ½ cups
Medium Dogs:
Setter, Dalmatian, Pointer, Springer, Spaniel, etc.
20-50 lbs
2 ½ to 4 ½ cups
Large Dogs:
Boxer, Collie, Labrador Retriever, German Sheperd, etc.
50-100 lbs
4 ½ to 7 ½ cups
Extra-Large Dogs:
Great Dane, St. Bernard, etc.
100 lbs - above
7 ½ cups and add ¾ cup for every 10 lbs. of body weight above 100 lbs.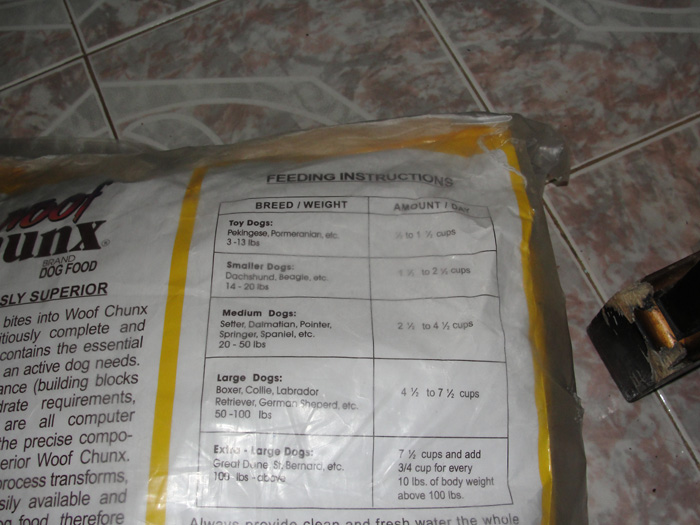 Always provide clean and fresh water the whole day. Keep bag closed with paper clip to retain its freshness.
Woof Chunx has variety of diets and prices
1 lb. / 454 grams = php 34.00
4 lbs. / 1.8 kgs. = php 130.00
20 lbs. / 9.1 kgs. = php 610.00
40 lbs. / 18.18 kgs. = php 1,150.00

1 lb. / 454 grams = php 37.00
4 lbs. / 1.8 kgs. = php 140.00
10 lbs. / 4.55 kgs. = php 340.00
40 lbs. / 18.18 kgs. = php 1,250.00

1 lb. / 454 grams = php 41.00
4 lbs. / 1.8 kgs. = php 155.00
Prices may vary according to resellers, inflation (regular price increase) and location.
Woof Chunx is distributed by: NUTRIQUEST INTERNATIONAL, INC. with its principal address located at Taft Avenue, Metro Manila, Philippines.
Could you share your feeding experience with certain kind of dog foods available in your place?