Yellow Cab Pizza

Company Name:
Yellow Cab Pizza Co.
Branch Address:
  3rd Level, Ayala Center Cebu
Contact No. / Telephone No.:
  (032) 412-5285, (032) 412-5286
Email Address:
  comments@yellowcabpizza.com
Official Website in the Philippines:
http://www.yellowcabpizza.com/philippines.html
Type of Business:
Food / Restaurant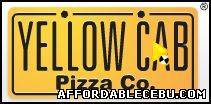 Yellow Cab Pizza
Note
: Yellow Cab Pizza accepts credit card payments: MasterCard and Visa.