Section 6.f of Title III Rule I of the Revised Implementing Rules and Regulations of the National Health Insurance Act of 1995 (R.A. 7875 as amended by R.A 9241), mandates PhilHealth to "
establish and maintain an updated membership and contribution database
".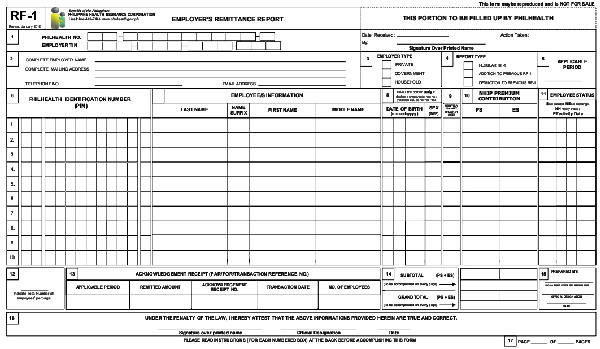 PhilHealth Revised Employer Remittance Report (RF-1)
In accordance with the above provision, the Employer Remittance Report (RF-1) has been revised specifically with the addition of box no. 8 "Date of Birth and Gender Column" to facilitate the immediate registration and generation of PhilHealth Identification Number (PIN) of unregistered but actively paying employed-members.
Consequently, all employers are hereby required to fill-out and supply the necessary information in box no. 8 of the revised RF -1 in case the employee/s being reported have not been issued with permanent PINs. As such, the supplied information in the designated box shall be the basis in the registration, generation of PINs and the subsequent issuance of PhilHealth Identification Cards.
Further, for updating of member data record and/or declaration of dependents, the employer shall still require their employees to submit a properly accomplished PhilHealth Membership Registration Form (PMRF) including applicable supporting documents and the same shall be forwarded to PhilHealth Regional/Branch Offices together with the Report of the Employee-Members (ER2).
The revised RF-1 shall be used in submitting the monthly remittance report applicable for premium remittances of April 2012 onwards- "Plus applies to both Hard Copy and Soft Copy formats.
This Circular shall take effect fifteen (15) days upon publication in a newspaper of general circulation.