Strepsils Product Label - Know some vital product description
Strepsils is popularly known for treating sore throat. Everytime I feel some sore throat or mild cough, I immediately buy Strepsils. They're like yummy candies to eat. They're effective for me. Within just few hours, soar throat or mild cough would be gone. To help you understand more about the product, here are some of its important description:



I usually prefer Strepsils with Orange flavor. As its label says, "Orange with Vitamin C". So, Vitamin C is a plus. It can give you more resistance and can boost immune system. Here are some pictures of the Strepsils I usually buy:



This is 1 pack of Strepsils orange flavor.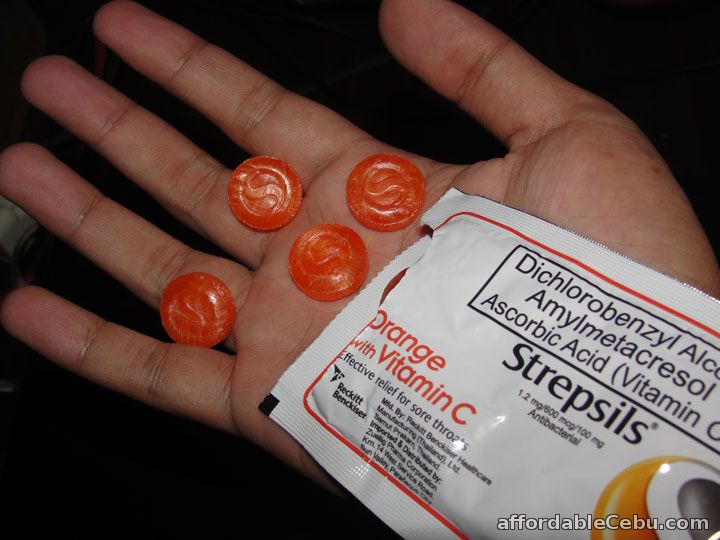 Here's the transcription of the Strepsils Product Label printed at the front of its sachet:
---
Ascorbic Acid (Vitamin C)
Strepsils
Effective relief for sore throats
Manufactured By: Reckitt Benckiser Healthcare
Manufacturing (Thailand), Ltd.
Imported & Distributed by:
Zuellig Pharma Corporation
Km. 14 West Service Road,
Sun Valley, Parañaque City
---
Transcription printed at the back of its sachet:
---
Strepsils - STOPS YOUR SORE THROAT BEFORE IT GETS WORSE
Strepsils Antibacterial Lozenges provide fast, soothing and effective relief from the discomfort of sore throats. Each lozenge contains a combination of 2 antibacterials to help kill the bacteria which can cause sore throats and mouth infections.
Also available in Original, Honey and Lemon, Cool, Sugar Free and Extra Strong flavors.
Strepsils - FIRST AID FOR SORE THROATS.
Directions:
Adults and children: Dissolve one lozenge in the mouth every 2 to 3 hours or as prescribed by the physician. If symptoms persist, consult your doctor.
Indications:
For the relief of mouth and throat infections.
Formulation:
Dichlorobenzyl Alcohol.......... 1.2 mg.

Amylmetacresol................... 600 mcg

Vitamin C ........................... 100 mg
Keep out of Reach of Children
Store Temperatures Not Exceeding 30°C.
Please direct questions or comments to the STREPSILS TOLL FREE INFOLINE 1800-10-889-6292 or Email us at: feedbackPH@reckittbenckiser.com
---
It's great if you have some sachets stored on your medicine kit.
What about you? Do you take or eat Strepsils? Are you satisfied with the effect of taking Strepsils?
Warning! When posting comments, strictly observe correct spelling. Avoid incomplete words such as TY (as Thank You), Pls as Please, gud as good, dpt as dapat, etc. You can comment in English or Tagalog. If you will not follow this simple instruction, your comment(s) will not be accepted or published.