Have you heard or read about this
Facebook Virus
thing? If not, read my story...
I receive today an email from my Yahoo Mail. I am shock when I open this email coming from someone I don't know using an email
< manager.nr.226@facebook.com >
. Well, my first guess is it really came from Facebook support.

Here's the full message of the email:


Dear Customer.

A spam is sent from your Facebook account.
Your password has been changed for safety.

Information regarding your account and a new password is attached to the letter.
Read this information thoroughly and change the password to complicated one.


Thank you for your attention,
Facebook Service.


Take a look at this picture. This is how it looks like in my Yahoo Mail:



A Mysterious Facebook Email


After I read this email, I'm confused what the hell happened to my Facebook account. I didn't even change my Facebook password. I check my Facebook and log-in using the same old password. Guess what? I successfully log-in to my Facebook Account and no password changes happened.

And I don't know who sent this spam to my Facebook Account. Then, I open the attached file
Facebook_document_Nr9046.zip
... when the downloading process began, sure enough, Norton Antivirus detected a virus in the attachment.

Here is the alert message of from Norton Antivirus: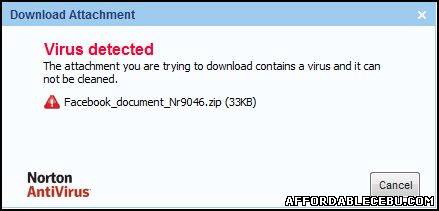 This is a pop-up alert message from Norton Antivirus in my Yahoo Mail, notifying me that the attached file contains virus.


Huhuhuhu. Thanks to the built-in Antivirus of Yahoo Mail. If in case I successfully downloaded this facebook virus, I don't know what might happen in my computer. But the general truth about viruses is it will damage your computer, it will steal files, passwords, important bank accounts.

If you have the same experienced with me and was able to download this facebook virus, please share to us what damage it brought to your computer.