Former Councilor Elpidio Fermin and Pangasinan Mayor Julier Resuello are aiming to bid for a Guinness World Record for the
biggest jackfruit
that was found in Barangay Palaming, San Carlos City, Pangasinan (Philippines).
The locals living in city were amazed to the jackfruit tree grown in the farm of Elpidio Fermin mainly because it bears possibly the biggest jackfruit in the world. At first, Fermin observed the unusual large size of the jackfruit. Then he searched in the internet about the biggest jackfruit in the world. He found out that the present Guinness-record about the biggest jackfruit was not as big as his jackfruit. So, he immediately reported to the city Mayor Julier Resuello about the matter.
The said jackfruit weighs 45 kg. (99.2 pound) and measures 29 inches (73.66 cm) long and 53.14 inches (135 cm) in circumference. This jackfruit is still growing and outranks the existing Guinness World Record for the biggest jackfruit which is only 22.65 inches (57.5 cm) long and 47.76 inches (121.31 cm) in circumference in Hawaii, USA.
A photo of the soon-to-be the biggest jackfruit in the world: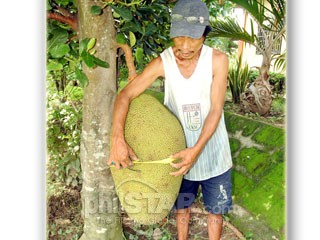 Jackfruit trees are mainly found in the tropical regions such as in Bangladesh, Southwestern India, Sri Lanka and in the Philippines. Its fruit is known to contain high nutritional value. Being a potassium-rich, it can be helpful to lower blood pressure. It also contains phytonutrients that have health benefits ranging from anti-cancer to antihypertensive. Known to be a good source of Vitamin C and good for those who want to lose weight.
This is another milestone for the Philippines as it also recently got the record of the biggest crocodile in the world, "Lolong".
Are you proud of our country gaining lots of biggest' records?