Do your
Epson ME1100 Printer
experienced blinking 2 led lights alternately as if your printer will no longer be used or it will not print anymore?
Well, I guess it reaches its Service Life age. Do you want to use again the printer instead of buying a new printer in order to save money?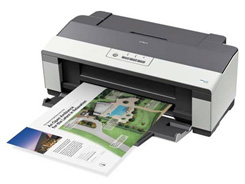 (Picture of Epson ME1100 Printer) Printer Reset Procedures
The solution is
reset your Epson ME1100 printer
.
Resetting Epson ME1100 Printer is very easy. Just follow these simple
6 steps
to reset your Epson ME1100 printer:
Download the Epson ME1100 here. Click this link: Epson ME1100 Adjustment_Program_Resetter_Program.zip
Unzip the file. Run the Adjustment Program for Epson ME1100 printer. Select the right port for usb. The port should be selected in Auto Selection. Click Particular adjustment mode.
Point on Waste Ink Pad Counter and press Ok.
Press Check Button to check the Waste Ink Pad Counter.
Click Initialization to reset.
Turn off the printer and turn it on again...Tantararahhhhh. Your printer is now reset.
These are simple ways of resetting your Epson ME1100 Printer.
Did you find any problem downloading Epson ME1100 Printer Resetter?