Full Disclosure: This article was lifted without permission from the official website of the Land Management Bureau (Philippines) who manages the survey and distribution of public lands in the Philippine Islands. Note that I am doing so for the sole purpose of sharing and informing other peopel. If anyone feels that I have in any way infringed upon the rights of said Bureau, kindly let me know and I will immediately take down this article.
Basic questions about real estate/land ownership will be answered such as:
What's the best evidence of land ownership?
What is a land title?
How to transfer a land title to another owner/buyer?
How can land ownership be transferred to the heirs?
Is possession the same as ownership?
Who are informal/temporary settlers (examples are squatters)?
In case of conflicting claims of land, who shall have a better right?
How to acquire land title?
What are the types of land ownership?
What are public lands?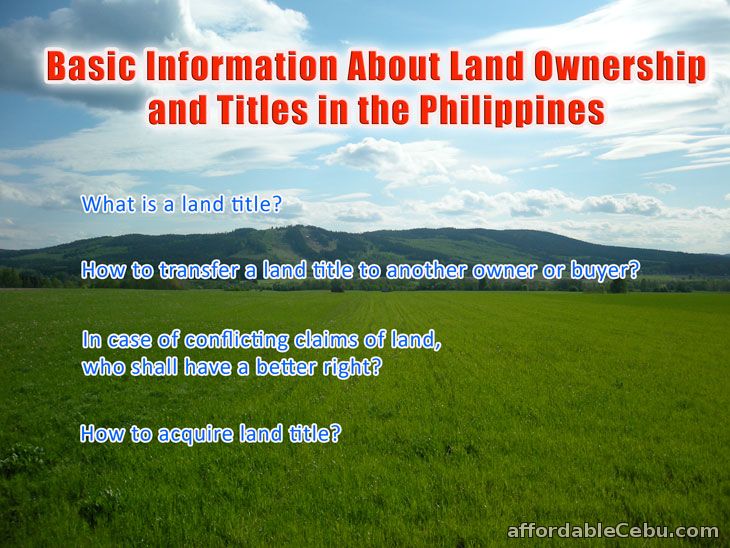 What are the evidence or proof of ownership over a parcel of land?
The best evidence of ownership is the certificate of title duly issued by the Registry of Deeds concerned. However, in the absence of a title, tax declaration coupled by actual possession and existence of improvement also substantiate claim for ownership.
What is a TITLE (Land Title)?
A title refers to the legal right to own a property and the certificate of title is the document which confers such right of ownership to an individual, association or corporation.
In subsequent registration of Title, what are necessary to effect the same?
Transfer of title is effected by executing a document such as deed of sale wherein the registered owner (seller) transfer the ownership to a buyer. The capital gains tax and other taxes must be paid before clearance can be secured from the Bureau of Internal Revenue (BIR). This will be submitted to the Registry of Deeds concerned, together with the title which will be surrendered for issuance of a new title in the name of the buyer.
Subsequent registration of title is a function and jurisdiction of the Registry of Deeds under the Land Registration Authority (LRA) as the land involved is already a private property outside the jurisdiction of the Department of Environment and Natural Resources (DENR).
In case the registered owner dies, How can ownership be transferred to the heirs?
When a registered owner died without leaving a last will and testament, the heirs can transfer the title to themselves by executing an extra-judicial settlement of the estate, on condition that the heirs are in agreement of how to dispose the properties. If there is conflict and heirs can not agree, they should bring a case before the court which will make a decision for them.
Is possession the same as ownership? Who are informal settlers?
No. Possession means actual and exclusive control of property by physical occupation and this could be in good faith or in bad faith. On the other hand, ownership implies the legal right of possession, control and enjoyment by the owner who has established evidence that he owns the property.
Informal settlers are those in possession of land without the benefit of a title and without consent of the owner. Their possession is not permanent and has no legal basis for occupation. The possessor must strive to acquire title to the land before his possession can become permanent.
In cases where there are conflicting claims, who shall have a better right?
In cases where both claimants have no title, there are many factors to consider like actual possession. The one who occupies the land especially in good faith has better right as against someone with doubtful documents or has recently acquired rights without knowledge of the one in possession. However, all factors must be fully evaluated to determine preferential rights.
How can one acquire TITLE?
For original registration, when no title has yet been issued over a parcel of land, it can be acquired either by:
Judicial proceedings – by filing petition for registration in Court.
Administrative proceedings – filing an appropriate application for patent (e.g. homestead) in the Administrative body (DENR) and registration of this patent becomes the basis for issuance of the Original Certificate of Title by the Registry of Deeds.
What are the main classification of lands as to ownership?
Private properties – those which are titled.
Public lands – those which have not been titled as well as those public dominion or outside the commerce of man such as road, public plaza and rivers.
What are Public Lands?
All Lands that are not acquired by private person or corporation, either by grant or purchase are public lands. The common understanding therefore, is that all lands which have no title or not registered to private individual are public land. these are grouped into:
Alienable or Disposable (A & D Lands) – those that can be acquired or issued title. Our constitution provides that only agricultural lands can be disposed of to private citizens.
Non-alienable lands – includes timber or forest lands, mineral lands, national parks. No title can be issued over any portion within this area.
What are the modes of disposition or How can one acquire title over Alienable or Disposable (A&D) lands?
The modes are:
By Homestead Patent
By Sales Patent
By Lease
By Free Patent or Administrative legalization
Reference: pinoydreamhousetoday.com
Author: Cecilio A. Sanchez, Jr. (Licensed Real Estate Broker)