All purchase decisions start with either a need or a want; there's a big difference between the two.
Economic Glossary defines need as a "physiological" or "biological" requirement to maintain life. Whereas want is a "psychological" yearning that makes life more enjoyable but is not necessary to maintain life.
It's important for you to determine if your decision to own a house is based on what you need or on what you want and what your lifestyle is.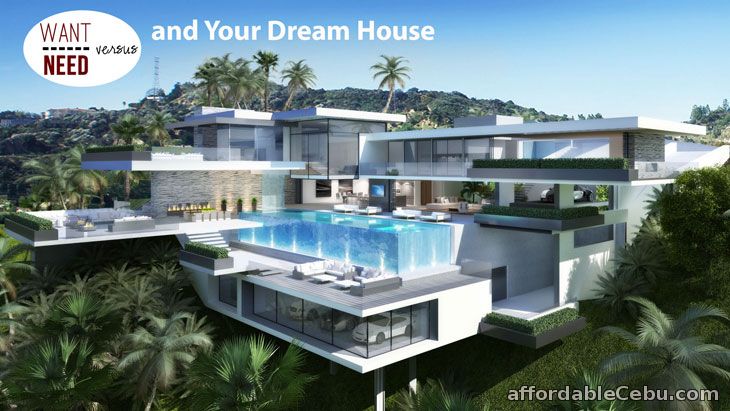 What's the point for a family of three to own a 5 or even a 6-bedroom house if the spouses no longer plan on having anymore children?
What's the point of buying a house and lot in a subdivision if you already own a lot somewhere (assuming it's not so far away and relatively decent)?
What's the point of buying an expensive lot in an upscale subdivision if you don't know where to get the money to build a house that will be comparable to the other houses in the neighborhood? (The last time I checked, they don't allow a tent to be pitched in Ayala Alabang).
Will your house be a comfortable abode for your family or is it going to be a trophy to announce to the world that you are made? Is it going to be a status symbol?
What's the point of yearning for a house if you haven't saved a single centavo because you spend every paycheck on the latest gadget, the latest fashion and frequently spend under two hundred pesos on frappucino at Starbucks?
For these spendthrifts who live from paycheck to paycheck, their dream house will remain exactly that… a dream.
For them, I will quote from my favorite preacher, Bo Sanchez: "Some of your dreams are meant to die to tell you that you need to grow up."
I'd rather see spouses earning modest income, let's say, as government employees, but force themselves to save a significant portion of it towards owning a modest house. It may take them a little while, but eventually, they will get there.
I'm not forcing anyone to buy a house based solely on what he needs. No one will stop you from owning a house that you want no matter how extravagant or impractical it may appear to some; no matter what your reason is.
This is especially true if you belong to the top five percent of the Philippines' rich and famous. It's really a matter of personal choice.
But for most of us, owning a house based on what we need is more realistic and achievable especially when combined with a workable plan and a modest lifestyle.
Reference: pinoydreamhousetoday.com
Author: Cecilio A. Sanchez, Jr. (Licensed Real Estate Broker)