A TV remote control is seemingly becoming a part of human life that is very hard to live without. With a remote control, you can easily change or switch to your favorite channels and easily manage the set-up of your TV, LCD TV, LED TV, 3D TV, Plasma Tv, HDTV. It can easily manage the program of your cable tv. That's why, in case you're a Cignal subscriber and your Cignal remote control has been damaged or malfunctioned, you have the option to repair it or to replace it.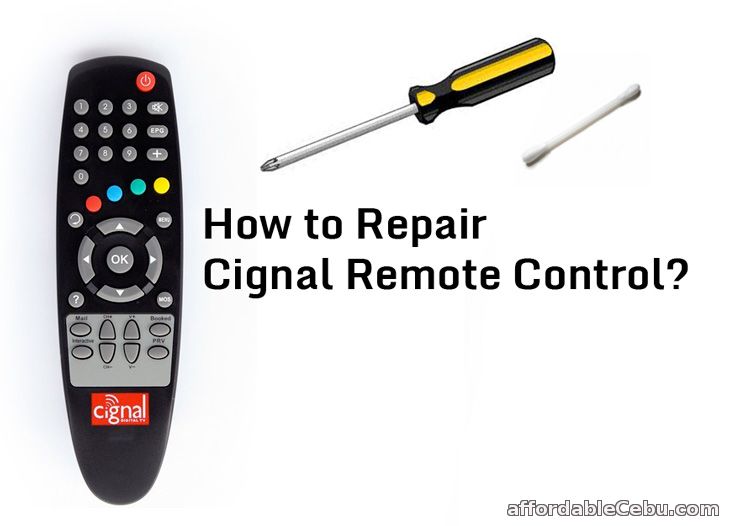 Here are some basic troubleshooting techniques to do in repairing your Cignal remote control:
1.) If some buttons don't work, open the remote control (batteries must be removed first). Clean the button contacts of the circuit board with a pencil eraser. Clean any dirt and dust inside the rubber pads of the buttons with cotton buds and alcohol.
2.) Check the LED bulb at the top end of the remote control. If it's broken or damaged, have it replaced or repaired to a Cignal office or you may call your nearest Cignal dealer.
3.) If the remote control got wet, make sure you remove the batteries first and dry the remote control. Warning: Don't expose to direct sunlight and don't even think to dry it inside an oven. You can place it in a safe and well-ventilated place in your house. If possible, you may open the remote control and check the amount of water inside. Wipe the circuit board and the rubber pads of the button with a cotton or a cotton buds. Don't use the remote control while it's wet.
4.) If you're not an electrician or a technician, don't dare to fix any electrical parts (such as IC or integrated circuit, diodes, capacitors, etc.) inside the remote control. If you don't know exactly what you're doing, don't ever do it. You'll just aggravating the damage.
You may call the following contact numbers for remote control replacement:
049-5345718
02-4031571
02-3488914
09178086000
09177957140
09228184503
09228588914
09334320544
09989834214
Tips and Suggestions
Cost of replacement of remote control is Php 450 (as of March 2014)
Do you have a damaged or malfunctioned Cignal remote control?