PLDT Telpad Terms and Conditions
If you're a subscriber of PLDT Telpad, you need to know these Terms and Conditions indicated in the Warranty Card. In case you have concern or problem with the Telpad, you can read and refer to this list of Terms and Conditions. Frequently asked questions include:


Will I pay the full amount of the PLDT Telpad if i cancel or terminate my subscription?
Can I sell or transfer the ownership of PLDT Telpad to another person (buyer or third-party)?
Will I be charged or is the Telpad be replaced if I lost the Telpad or if the Telpad is stolen?
Answers are underlined in the list of Terms and Conditions below.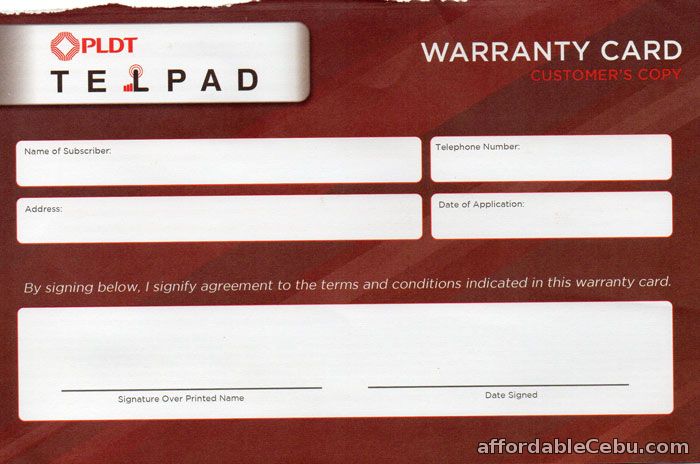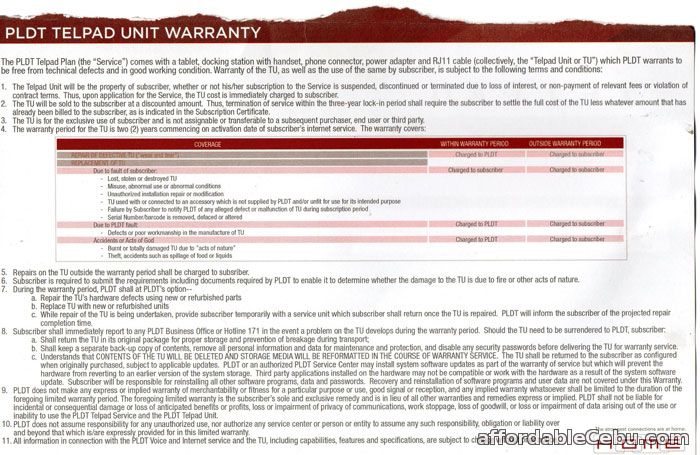 Transcription:
PLDT TELPAD UNIT WARRANTY
The PLDT Telpad Plan (the "Service" comes with a tablet, docking station with handset, phone connector, power adapter and RJ11 cable (collectively, the Telpad Unit or TU") which PLDT warrants to be free from technical defects and in good working condition. Warranty of the Telpad, as well as the use of the same by subscriber, is subject to the following terms and conditions:
1. The Telpad Unit will be the property of subscriber, whether or not his/her subscription to the Service is suspended, discontinued or terminated due to loss of interest, or non-payment of relevant fees or violation of contract terms. Thus, upon application for the Service, the Telpad cost is immediately charged to subscriber.
2. The Telpad Unit will be sold to the subscriber at a discounted amount. Thus, termination of service within the three-year-lock-in period shall require the subscriber to settle the full cost of the Telpad Unit less whatever amount that has already been billed to the subscriber, as is indicated in the Subscription Certificate.
3. The Telpad Unit for the exclusive use of subscriber and is not assignable or transferable to a subsequent purchaser, end-user or third-party.
4. The warranty period for the TU is two (2) years commencing on activation date of subscriber's internet service. The warranty covers:
Coverage
Within Warranty Period
Outside Warranty Period
Repair of Defective Telpad ("wear and tear")
Charged to PLDT
Charged to subscriber
Replacement of Telpad
Charged to subscriber
Charged to subscriber
Due to PLDT fault:


Defects or poor workmanship in the manufacture of Telpad Unit

Charged to PLDT
Charged to subscriber
Accidents or Acts of God:


Burnt or totally damaged Telpad Unit due to "acts of nature"
Theft, accidents such as spillage of food or liquids

Charged to PLDT
Charged to subscriber
5. Repairs on the Telpad Unit outside the warranty period shall be charged to subscriber.
6. Subscriber is required to submit the requirements including documents required by PLDT to enable it to determine whether the damage to the Telpad Unit is due to fire or other acts of nature.
7. During the warranty period, PLDT shall at PLDT's option--
Repair the Telpad Unit's hardware defects using new or refurbished parts.
Replace Telpad Unit with new or refurbished units.
While repair of the Telpad Unit is being undertaken, provide subscriber temporarily with a service unit which subscriber shall return once the Telpad Unit is repaired. PLDT will inform the subscriber of the projected repair completion time.
8. Subscriber shall immediately report to any PLDT Business Office or Hotline 171 in the event a problem on the Telpad Unit develops during the warranty period. Should the Telpad Unit need to be surrendered to PLDT, subscriber:
Shall return the Telpad Unit in its original package for proper storage and prevention of breakage during transport;
Shall keep a separate back-up copy of contents, remove all personal information and data for maintenance and protection and protection, and disable any security passwords before delivering the Telpad Unit for warranty service.
Understands that CONTENTS OF THE TELPAD UNIT WILL BE DELETED AND STORAGE MEDIA WILL BE REFORMATTED IN THE COURSE OF WARRANTY SERVICE. The Telpad Unit shall be returned to the subscriber as configured when originally purchased, subject to applicable updates. PLDT or an authorized PLDT Service Center may install system software updates as part of the warranty of service but which will prevent the hardware from reverting to an earlier version of the system storage. Third party applications installed on the hardware may not be compatible or work with the hardware as a result of the system software update. Subscriber will be responsible for reinstalling all other software programs, data and passwords. Recovery and reinstallation of software programs and user data are not covered under this Warranty.
9. PLDT does not make any express or implied warranty of merchantability or fitness for a particular purpose or use, good signal or reception, and any implied warranty whatsoever shall be limited to the duration of the foregoing limited warranty period. The foregoing limited warranty is the subscriber's sole and exclusive remedy and is in lieu of all other warranties and remedies express or implied. PLDT shall no be liable for incidental or consequential damage or loss of anticipated benefits or profits, loss or impairment of privacy of communications, work stoppage, loss of goodwill, loss or impairment of data arising out of the use or inability to use the PLDT Telpad Service and the PLDT Telpad Unit.
10. PLDT does not assume responsibility for any unauthorized use, nor authorize any service center or person or entity to assume any such responsibility, obligation or liability over the beyond that which is/are expressly provded for in this limited warranty.
11. All information in connection with the PLDT Voice and Internet service and the Telpad Unit, including capabilities, features, and specifications are subject to change without prior notice.
Warning! When posting comments, strictly observe correct spelling. Avoid incomplete words such as TY (as Thank You), Pls as Please, gud as good, dpt as dapat, etc. You can comment in English or Tagalog. If you will not follow this simple instruction, your comment(s) will not be accepted or published.