If you want to relax, revitalize and enjoy the beauty of nature, one of the best beaches you can go in Misamis Occidental is the
Sunrise Paradise Resort
. It's located in the Municipality of Baliangao, Province of Misamis Occidental (Philippines). Residents in Misamis Occidental are really amazed with the awesome beauty of this beach. They highly appreciate this virgin white-sand beach.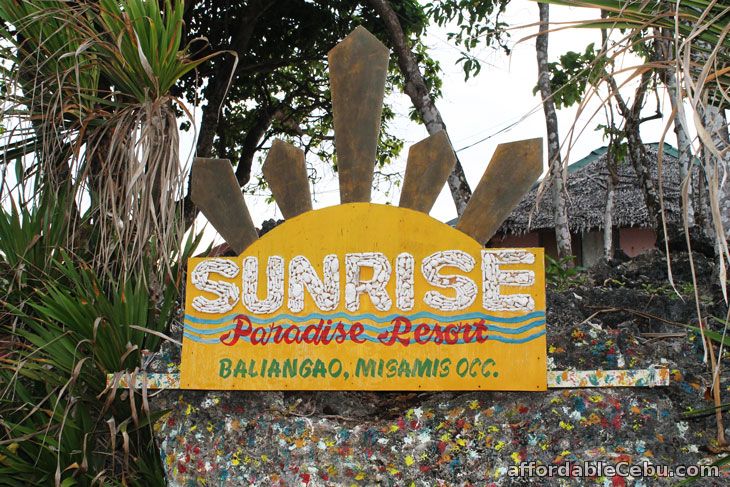 Sunrise Paradise Resort - Baliangao, Misamis Occidental
Owner
Sunrise Paradise Resort is owned by Romeo "Nonong" Jalosjos. He is known as the political kingpin of Zamboanga and the current owner of Daka Beach Resort in Dapitan. He is a former Representative of the 1st District of Zamboanga del Norte to the 10th congress (1995-1998) and 11th congress (1998-2001).
Description
You can feel its white sand is soft and smooth. The serenity of the beach will surely brings back some beautiful memories of the past. It is known to be a virgin beach.
Soft white sand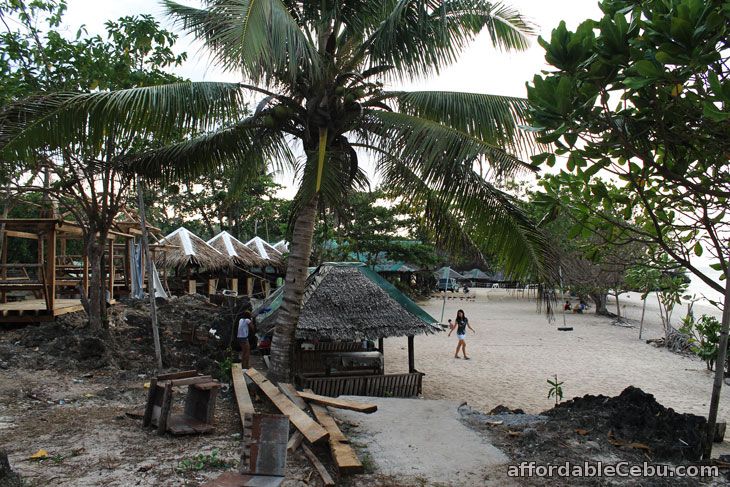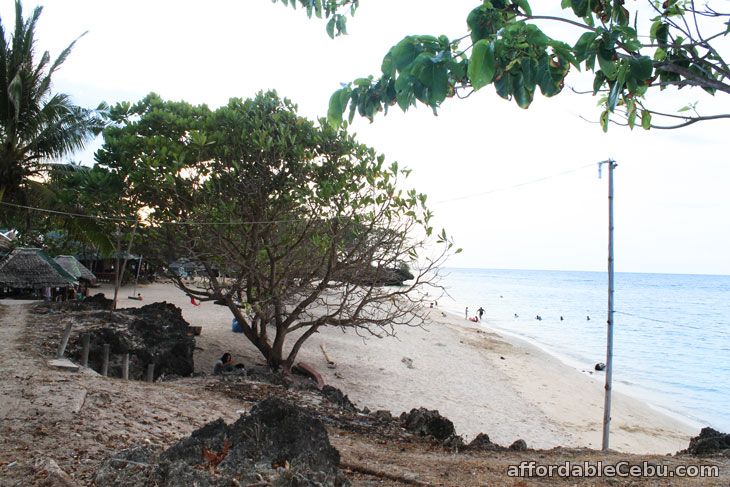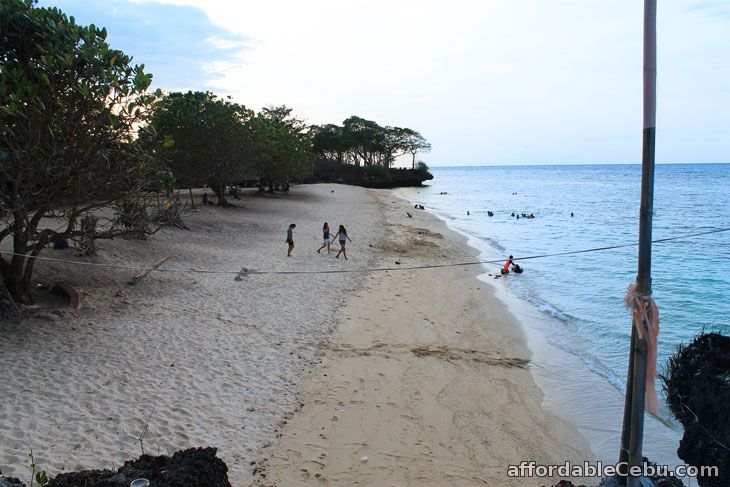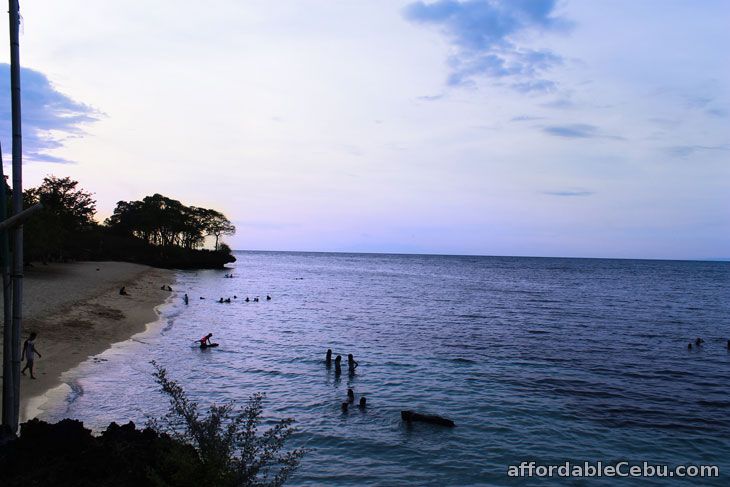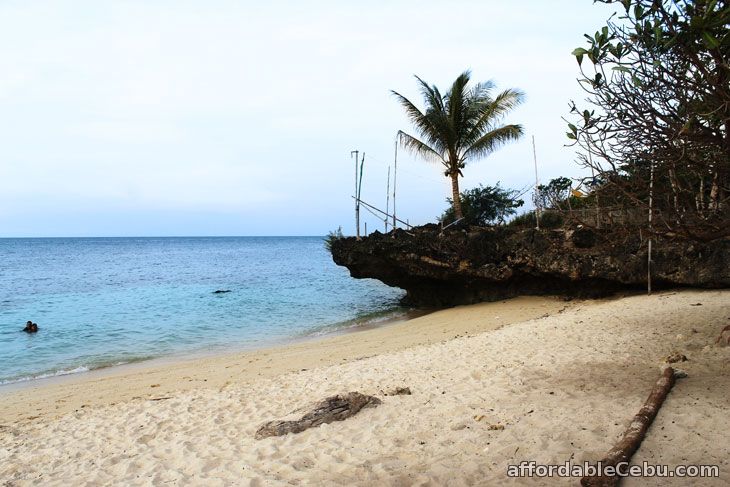 Love to hide in this cave-like rock?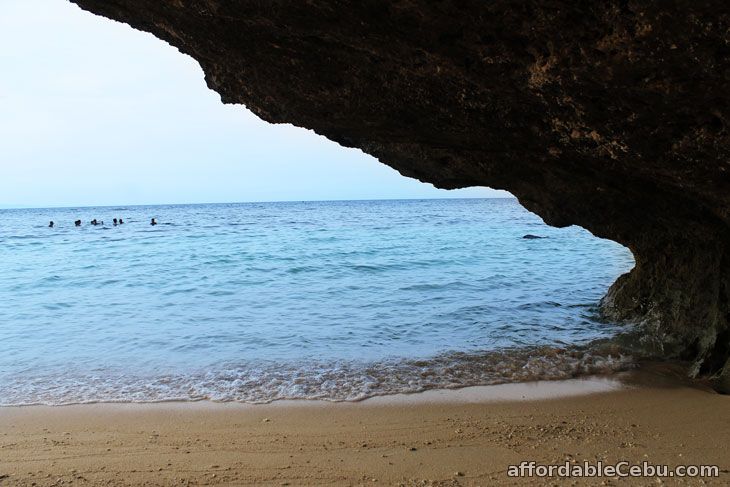 Afternoon view of the beach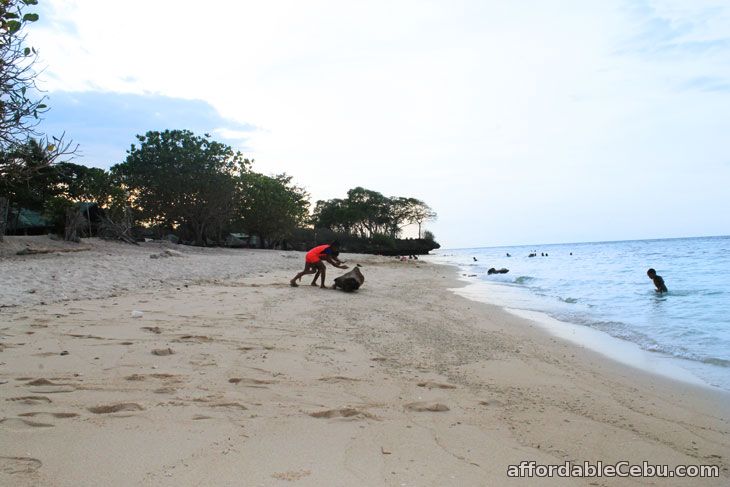 Kids roll and push a big wood slab to the sea
Some kids love to play and ride on a floating wood slab in the sea. You can get some of those wood slabs lying in the shore.
What's awesome in the beach?
If you want to really experience the beauty and treasures of this beach, you must bring goggles in order for you to see different types of marine life, colorful corals, beautiful fishes like "clown fishes", angel fishes, blennies, butterfly fishes in the sea. You can even find edible seaweeds locally known as "guso". You can eat those fresh "guso" if you want. And you can also find what is known as "lukot" and you may eat them as well if you want. You will surely enjoy the underwater adventure of this beach.
The beach has two volleyball courts in which you can play for free. But you must bring your own ball in order for you to play.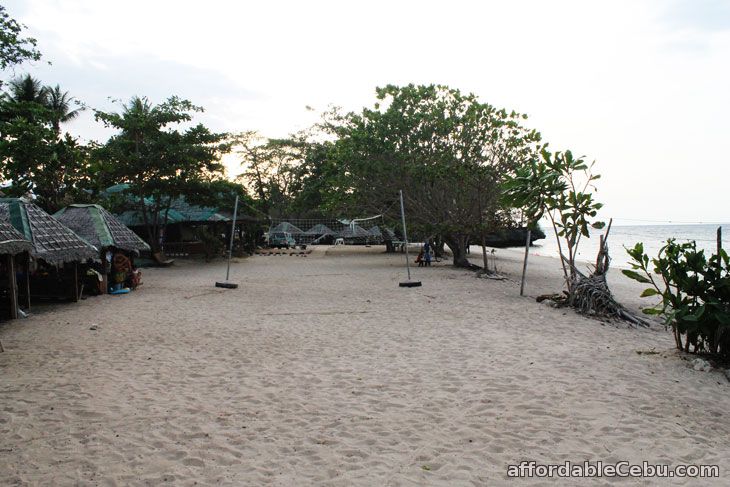 Volleyball Court (free to play)
It has swings tied on the Talisay tree facing the beach for you to seat and reminisce. Look at the bond of the couple in the photo below.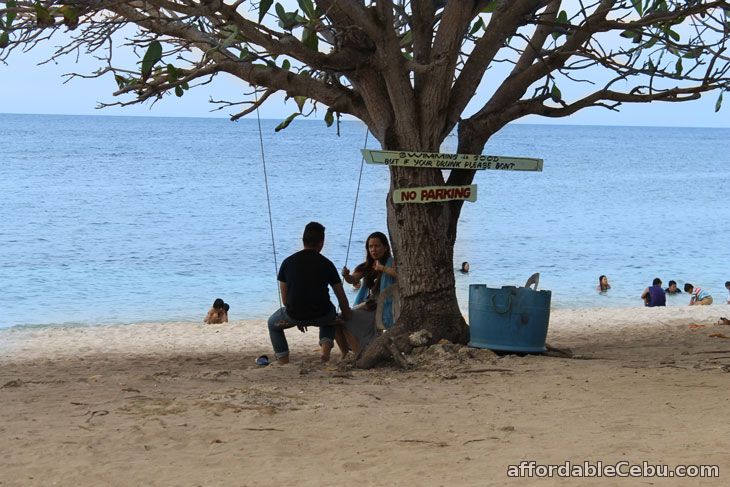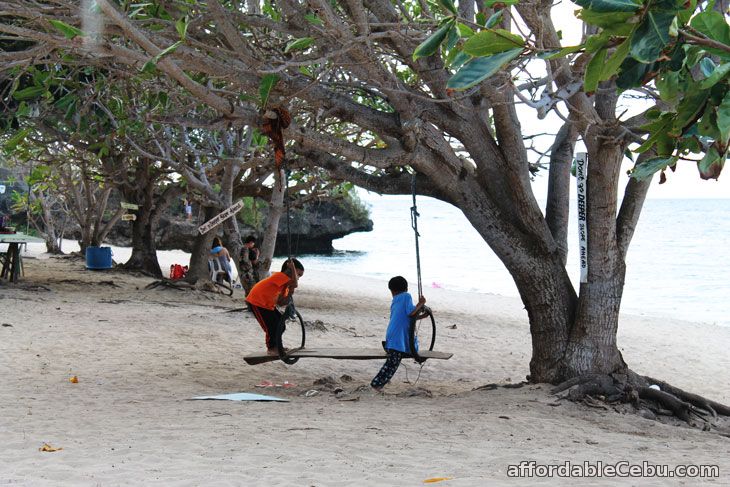 The kids are having fun riding on the swing. Talisay trees give shade to the tourists.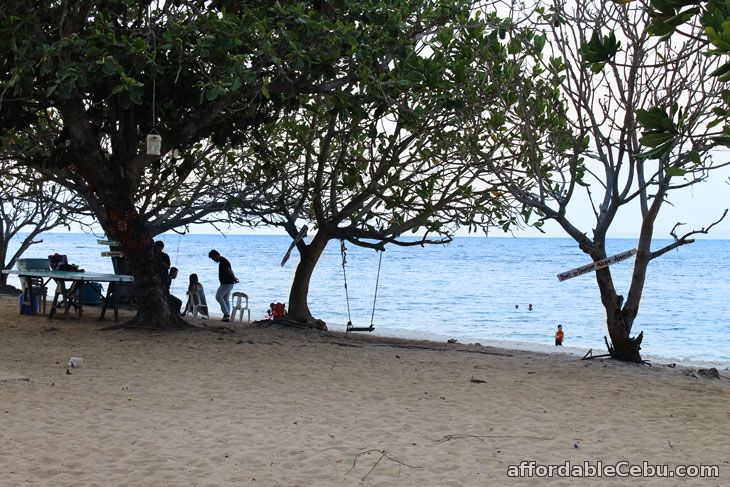 Talisay Tree which serve as a shade to tourists...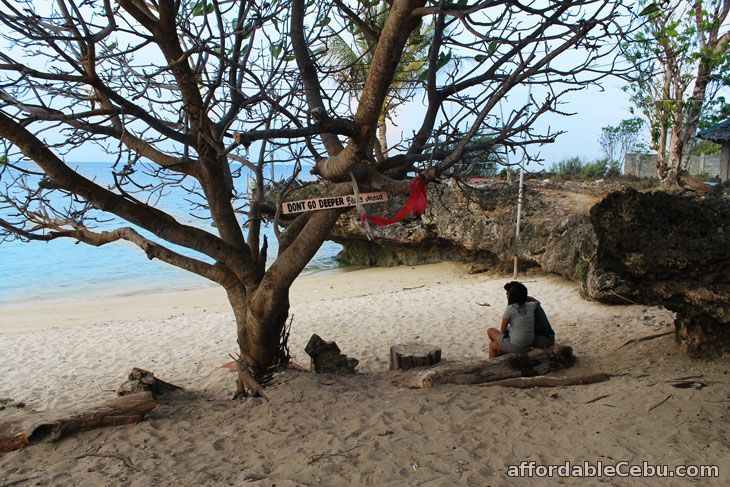 Sunrise Paradise Resort is a romantic place for lovers
Can you find the lovers in the picture?
Cottages
The beach have two types of cottages. They're the lower cottages built below and the upper cottages. The lower cottages cost Php 200 ($4.50) and the upper cottages cost Php 300 ($6.70).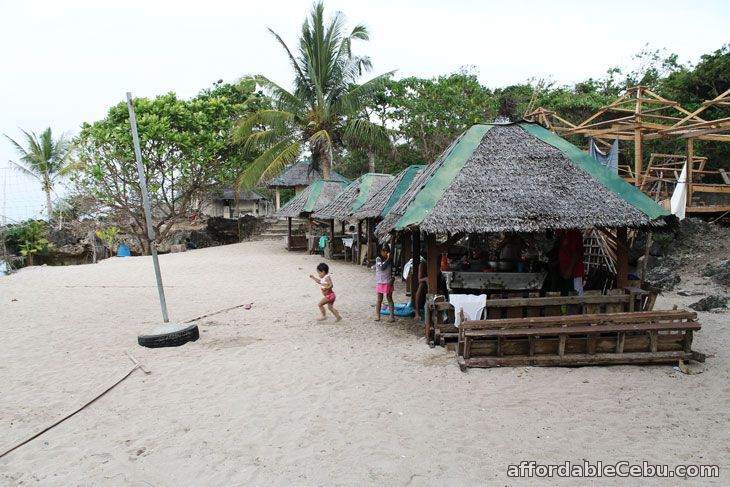 Lower cottages. Take note of the newly-constructed cottages on the upper part.
This resort is expanding. You can see newly-constructed cottages on the upper part of the photo above.
Cottages can be occupied by a about fifteen persons (seating capacity). If you're more than that number, don't forget to bring chairs for extra persons.
A very simple wooden cottage with nipa hut
As you can see in the photo above, the cottage has been almost half-buried in the sand. This because of sand erosion towards the cottages during high tides.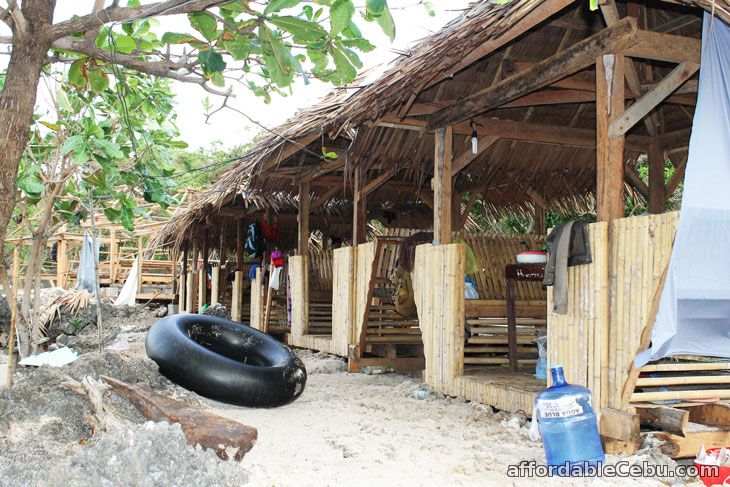 Upper Cottages (newly-built) which cost Php 300. It's made up of bamboo and nipa hut.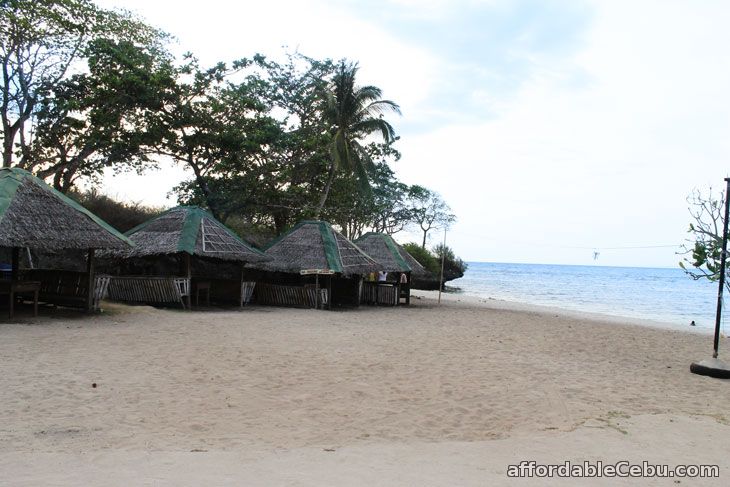 Cottages built on the other side (left side of the resort)
Rooms for Overnight Stay
You can avail aircon and non-aircon rooms. Aircon rooms cost Php 900 ($20) per night while non-aircon rooms cost Php 1,200 ($27).
Food, Beverage and Video Karaoke Entertainment
Sunrise Paradise Resort is selling mineral water, softdrinks, liquor (such as Tanduay, Gilbeys, etc.), and beer. They're displayed in their Multi-Purpose Hall.
Beverages display and Video Karaoke in the Multi-Purpose Hall
They also offer simple dishes or food. You can have some fun singing your favorite songs with their coin-operated video karaoke. You have to insert 5-peso coin and select your song.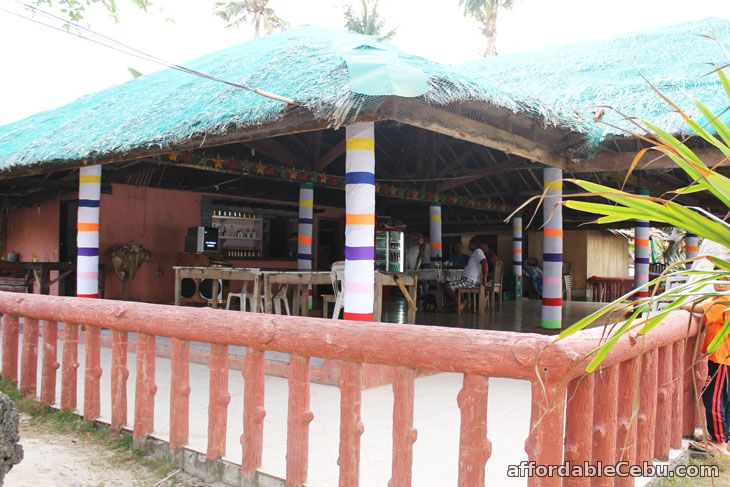 Sunrise Beach Resort Multi-Purpose Hall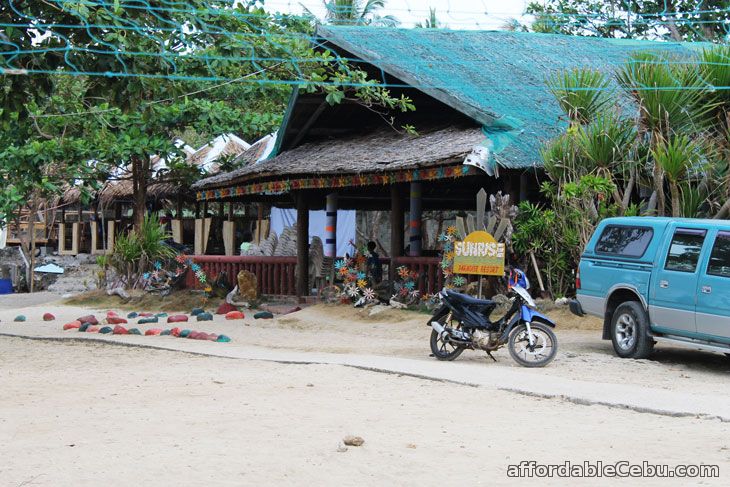 Sunrise Paradise Resort Multi-Purpose Hall
This Multi-Purpose Hall can be also a great place for birthdays, seminars and other special occasions.
Shower Rooms and Comfort Room (CR)
Shower rooms have no roof. Only the CR is covered with a nipa hut roof. The water running on the faucet taste a little bit salty. The water might come from a shallow well run by a water pump.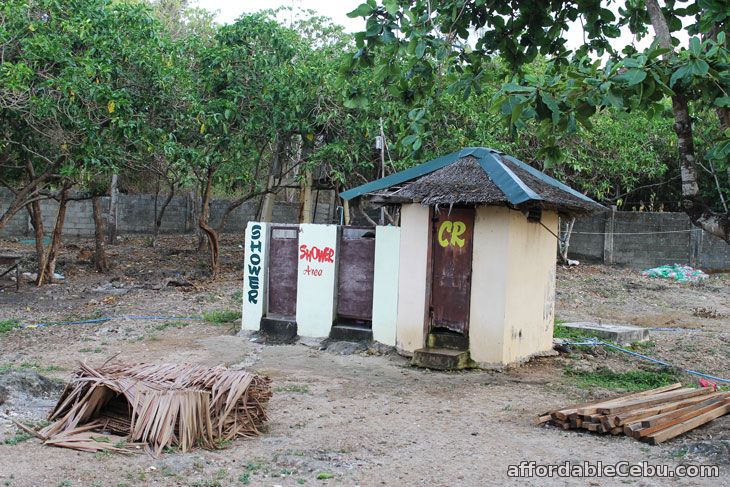 Parking Area
Parking Area is just located near the entrance gate.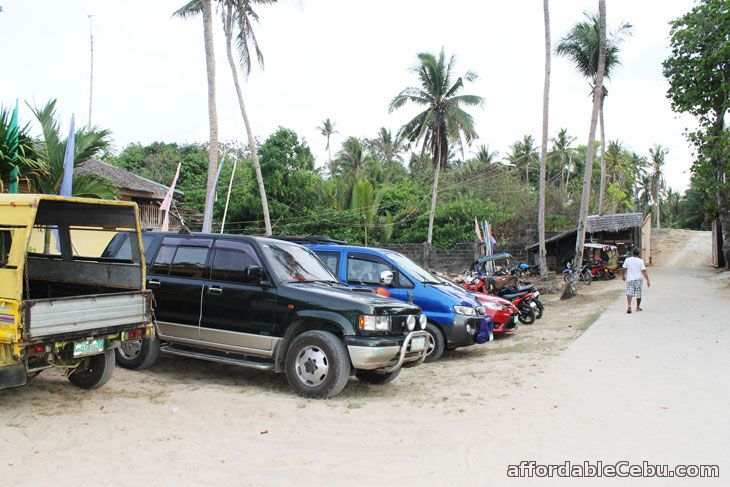 Parking area
How to get there?
Sunrise Paradise Resort is located in Baliangao. If you're from Ozamis, the distance to Baliangao is 93.2 km (kilometers). It's about two and a half hour travel from Ozamis to Baliangao.
If you're from Dipolog City (Zamboanga del Norte), travel would reach 68 km to Baliangao. It's about two-hour travel.
If you're from Oroquieta City, it would reach 50.9 km distance to Baliangao. That's about one hour and twenty minutes travel.
And if you're from Plaridel, distance would be 26 km to Baliangao. It's about 40-minute travel.
If you reach Baliangao, the best thing to do if you don't know the place you're going to is ask people around. They'll be glad to help you.
From Baliangao high-way (main road), it would take a kilometer distance going to the Sunrise Paradise Resort.
Do you like to visit this place? Or have you visited this place? Tell us your experience in this resort?