---
Apicius Culinary Arts - Pasig offers Diploma in Culinary Arts, Commercial Cooking NC II, Bread and Pastry Production and more! !
Ad Type: Announcement | Location: Outside Cebu | Views: | Comments: | Ad ID: 51244 | 06 October 2015
APICIUS CULINARY ARTS & HOTEL MANAGEMENT, INC. OFFERS DIPLOMA IN CULINARY ARTS, COMMERCIAL COOKING NC II, BAKING & PASTRY WITH HANDS-ON TRAINING IN COOKING CLASSES FROM OUR CELEBRITY CHEF! ! !
Apicius Culinary Arts in partnership with Pasig Catholic College is a culinary school located in Pasig that offers from basic culinary arts classes to baking classes and professional culinary training.
INQUIRE NOW AND KNOW MORE ABOUT THE 30% DISCOUNT FOR THE FIRST FIVE STUDENTS ! ! !
Opening of Classes for the new batch will be on December 01, 2015. No prior culinary background required. OJT's will be provided for free with possibility of employment. The students will be assisted in internship programs.
Schedule of classes are as follows:
1. Diploma in Culinary Arts
Class Schedule : MWF / TTh - 2PM-6PM
2. Commercial Cooking NC II
Class Schedule : TThS - 8AM-2PM
3. Bread and Pastry Production NC II
Class Schedule : Sat-Sun - 8AM-2PM; 2PM-6PM
Visit us at:
Pasig Catholic College
Jabson St., Malinao, Pasig City
Contact us at:
640-15-44 loc. 289
0908-863-8361
0917-787-7705
Pictures
---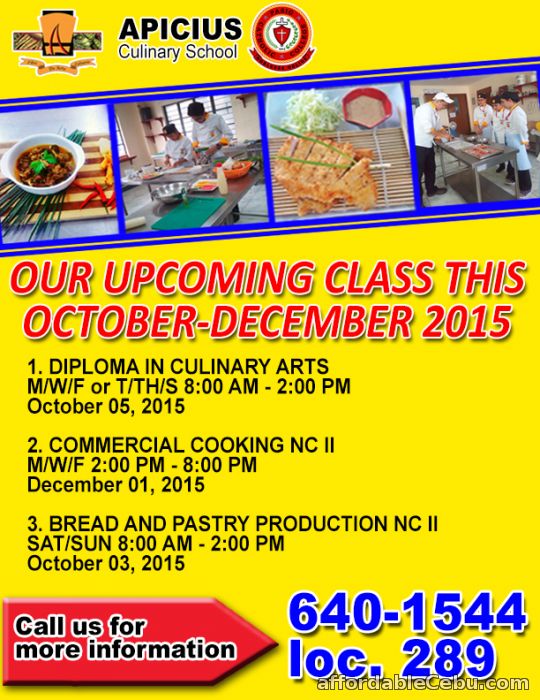 Views:
556
|

| Comments:

0