---
Representative Claiming Money in Palawan Pawnshop?
This is a question and answer portion. An answer is provided below after the question. Here's a question from June Prado:



"I want to ask if Palawan Pawnshop Pera Padala will allow if we send somebody to claim my money with authorization letter duly signed by me (claimant)."




- June Prado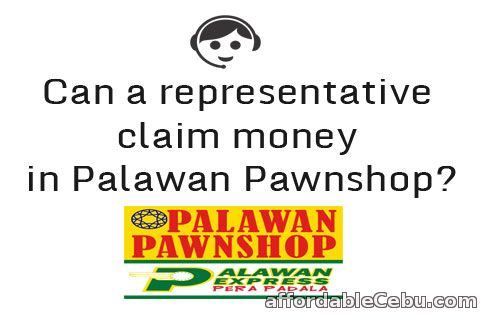 Answer
Yes. You can allow somebody to claim/receive the money in Palawan Pawnshop. But before going to the Palawan Pawnshop branch, your representative needs to bring some requirements/documents such as:
Authorization Letter (signed by you and must be notarized or duly signed by a certified lawyer)
Valid ID of Receiver (your valid id as the one who order a representative to claim the money)
Valid ID of Authorized Representative (valid id of the representative who will go and claim the money in Palawan Pawnshop branch)
If you have any other questions, please don't hesitate to post in the comment below.
Warning! When posting comments, strictly observe correct spelling. Avoid incomplete words such as TY (as Thank You), Pls as Please, gud as good, dpt as dapat, etc. You can comment in English or Tagalog. If you will not follow this simple instruction, your comment(s) will not be accepted or published.
Total comments: 3
3
Lyra Lyn Macalisang
(23 June 2017 9:12 AM)
does it really need the authorization letter notarized? amount will just be 200 pesos. I badly can't claim the money right now due to some reasons .
2
mark kenneth lanuza
(11 June 2017 6:11 AM)
I send a money to a person but he didn't go to palawan express to receive the money can i take it back the money somehow? Plsss help me
1
jessica gerra
(16 May 2016 12:03 PM)
i recieve a text message and transaction code from palawan pera padala the problem is i am not sure of the senders name n cell number bec it was an errand favor...pls help me on this.