---
Where to Buy BitCoins (BTC) in Philippines at Cheaper Price?
You can buy bitcoins in the Philippines through COINS.PH.

COINS.PH offers the most affordable price of bitcoin in the Philippines.

If you want to buy bitcoins immediately. Please go to this link and register... https://coins.ph/invite/2l5dyt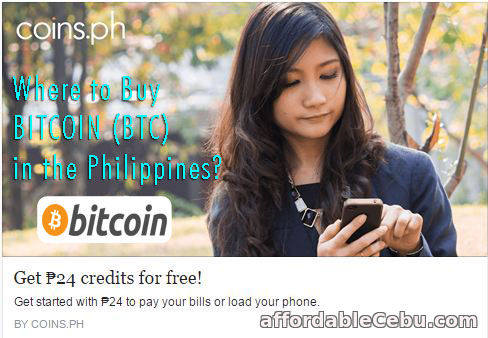 Download COINS.PH Android App in Google Play: https://play.google.com/store/apps/details?id=asia.coins.mobile

Download COINS.PH iOS app (for Apple iPhone users) in iTunes: https://itunes.apple.com/ph/app/coins.ph-wallet/id972324049…

Using those apps, use this REFERRAL CODE upon registration in order to get 24pesos for FREE:

REFERRAL CODE: 2l5dyt
REFERRAL CODE: 2l5dyt
REFERRAL CODE: 2l5dyt

If you're using desktop or laptop, you can go directly to COINS.PH website and create an account. Click those link below upon registration.

https://coins.ph/invite/2l5dyt
https://coins.ph/invite/2l5dyt
https://coins.ph/invite/2l5dyt

By the way you can also sell bitcoins in COINS.PH.

COINS.PH is a trademark used by Betur, Inc. This company is registered in Bangko Sentral ng Pilipinas (BSP), the Central Bank of the Philippines.

Betur, Inc. is registered as a Foreign Exchange Dealer (FXD), Money Changer (MC) and Remittance Agent (RA) in the Philippines.




What is BitCoin (BTC)?



Bitcoin (BTC) is a cryptocurrency or a virtual currency used by many internet users and also by ordinary citizens to purchase goods/services online and to make investments in cryptocurrency market. It is known to be invented by one programmer or group of programmers under the name of Satoshi Nakamoto.

It's the first cryptocurrency. It's decentralized, which means no central authority controls it. In the Philippines, the bitcoin market is growing. Thanks to the the technology brought by COINS.PH.
Warning! When posting comments, strictly observe correct spelling. Avoid incomplete words such as TY (as Thank You), Pls as Please, gud as good, dpt as dapat, etc. You can comment in English or Tagalog. If you will not follow this simple instruction, your comment(s) will not be accepted or published.