---
Youngest Richest Person in the Philippines
Building wealth requires time. Most of the richest people in the Philippines age over 50 years old. But for Edgar Sia II, he beats the time to achieve the rank as the youngest richest man in the Philippines.



He has US$ 85 million net worth (equivalent to PhP 4 billion) at the same year.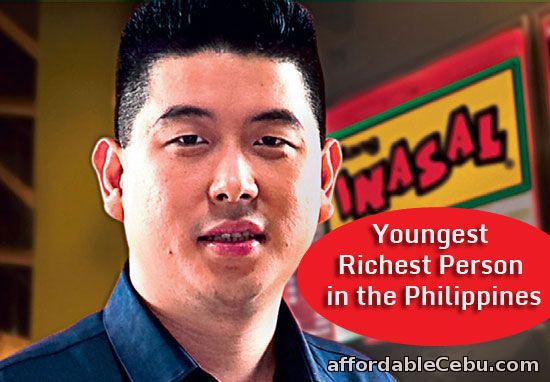 Edgar Sia II
- "The Youngest Richest Person in the Philippines"
(photo by starmometer.com)
What makes him the youngest richest person in the Philippines?
Let's talk a little about the history of his business career. At a young age, Sia cultivated the spirit of entrepreneurship in his heart. At 20 years old, he engaged in food business. He established the Mang Inasal restaurant in Iloilo in December 12, 2003.
Mang Inasal's specialty is the grilled chicken which was loved by Ilonggos. People loved to eat their chicken for its delicious taste. The secret of their tasty chicken was brought by the local herbs and spices flavored in the chicken.
The restaurant business was an instant success. Its branches spread throughout Visayas, Mindanao and Metro Manila.
Despite the stiff competition in the food business, Sia successfully penetrated the food market.
In 2005, Sia opened Mang Inasal for franchise. Due to its proven system and success, many Filipino entrepreneurs opened a franchise business of Mang Inasal.
Mang Inasal expanded up to 100 branches in 2009. And by 2010, Jollibee Foods Corporation acquired 70% of Mang Inasal for PhP 3 billion ($68.8 million). By the same year, it reported PhP 2.6 billion revenue.
In 2011, Sia's Mang Inasal branches spread up to over 400 stores throughout the Philippines overtaking McDonald's.
How about you, do you want to become the richest person in the Philippines? In what way are you going to achieve that status?
Warning! When posting comments, strictly observe correct spelling. Avoid incomplete words such as TY (as Thank You), Pls as Please, gud as good, dpt as dapat, etc. You can comment in English or Tagalog. If you will not follow this simple instruction, your comment(s) will not be accepted or published.
Total comments: 1

0

Spam
1
Eilen A. Sumilhig
(24 October 2016 12:02 PM)
Madam/Sir..
Good afternoon.. my package will supposedly delivered today,,Pwede Bukas ko nalang ipa deliver,,wala ako sa bahay now,,,di ako naka paghanda kasi akala ko nov 1-5 pa ang delivery,,,yun kasi ang nasa email ko by lazada.this are my tracking no.791007554733 and 791007554862...