The Philippine Health Insurance Corporation (PhilHealth), which administers the National Health Insurance Program of the Philippines, was established in 1995 in order to provide health insurance coverage to all Filipinos. If you're working in a private company or government company, you are required to be a member of PhilHealth. PhilHealth is very beneficial to you and to your family or dependents. Some of the benefits of PhilHealth are:
In-patient care:

room and board
services of health care professionals
diagnostic, laboratory, and other medical examination services
user of surgical or medical equipment and facilities
prescription drugs and biologicals
health education

Out-patient medical and surgical care:

services of health care professionals
diagnostic, laboratory and other medical services
personal preventive services
prescription drugs and biologicals
health education

Emergency and transfer services
Health Education Packages
Other health care services determined by the PhilHealth and Department of Health
If you want to apply or register for PhilHealth membership, just follow the steps below: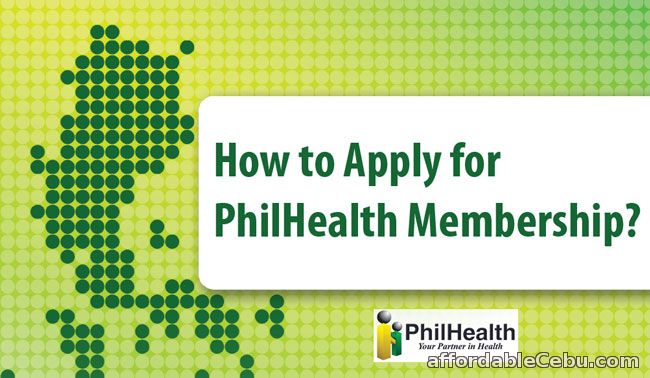 Step 1
Prepare and bring the needed requirements:
Valid ID. Bring a photocopy of one of your valid id's such as:
Birth Certificate (recommended)
Social Security System (SSS ID)
Government Service Insurance System (GSIS ID)
Driver's License
PRC ID
Senior Citizen's ID
OWWA ID
DSWD ID
Integrated Bar of the Philippines ID
Certification from the National Council for the Welfare of the Disabled Persons
Seaman's Book
OFW ID
Government Office ID (e.g. PNP, AFP, etc.)
Alien Certification of Registration (ACR)
other company ID's issued by Private entities/institutions registered under Bangko Sentral ng Pilipinas, Securities and Exchange Commission or Insurance Commission
If you're married (your spouse as your dependent), please bring the needed document:
Photocopy of Marriage Certificate/Contract
(For Muslim), Affidavit of Marriage issued by Office of the Muslim Affairs, and shall pass through Shri'a Court and must be authenticated/registered in the National Statistics Office (NSO).
If you have children (children you included as dependents), bring their identification documents such as:
Birth Certificate (for legitimate or illegitimate child below 21)
Court Decree of Adoption (for adopted child below 21 years old)
Marriage Certificate between the natural parents and stepmother/stepfather and Birth Certificate/s of Stepchildren (for stepchildren below 21 years old)
Birth Certificate and Medical Certificate of child issued by the attending physician stating and describing the extent of disability (for mentally or physically disabled children who are 21 years old or above)
If you want your parents to be included as your dependents, bring their birth certificate or any proof attesting their birthdate. If you have stepparent or adoptive parent, you must bring one of the following documents:
For Stepparent/s 60 years old or above
Birth Certificate of member-child indicating the biological parent
Marriage Certificate/Contract between biological parent of the member and the stepfather or notarized affidavit of the uninterested persons attesting to the date of birth
Death Certificate of member's deceased biological parent
For Adoptive parent/s 60 years old or above
Court Decree/Resolution of Adoption or Photocopy of Birth Certificate of the Child in which the adoption and is annotated
Birth Certificate/s of adoptive parents or a notarized affidavit of two disinterested persons attesting to the date of the birth
Prepare the initial contribution of Php 600 (good for 3 months).
Step 2
Go to the PhilHealth office. If you don't know the location of your nearest PhilHealth office, you must ask someone (friends, neighbors, relatives) where to find the office. They'll be happy to answer you.
Step 3
In the PhilHealth office, tell the staff or employee assigned in the new account application desk that you want to apply for PhilHealth membership. He/she will give you a PhilHealth Member Registration Form which looks like this: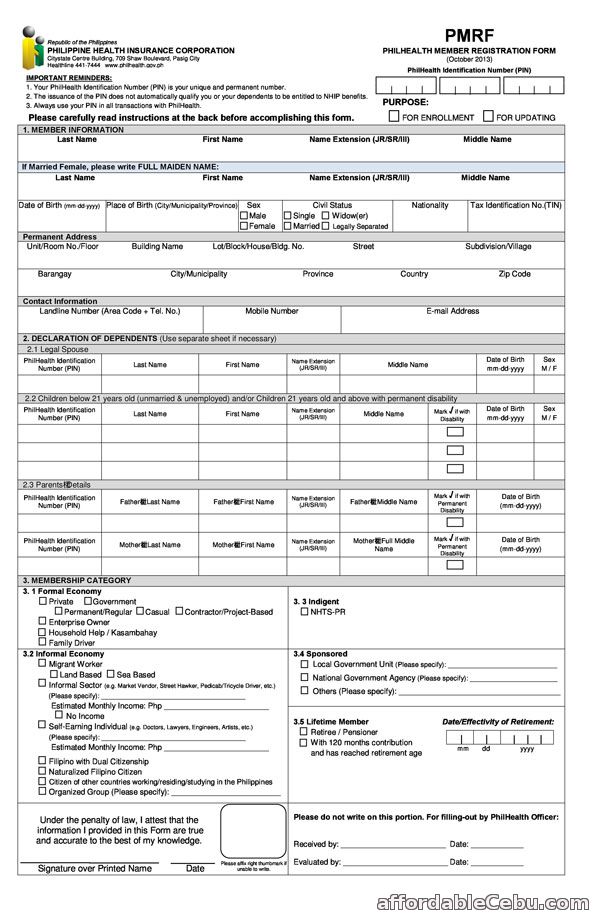 PhilHealth Member Registration Form (PMRF) photo snapshot
Fill-out this form appropriately. It is required to write in CAPITAL LETTERS. In the form under PURPOSE, check the FOR ENROLLMENT box. If the information is not applicable for you, write N.A. Further instructions are written at the back of the form. So make sure to read the instructions before filling-out the form.
Step 4
Your documents will be checked, verified and the application will be processed. Pay for your initial contribution (Php 600 good for 3 months). Then wait for a few minutes until it's finished.
You can claim your PhilHealth ID after a week or two weeks depending on the PhilHealth office you applied for.
PhilHealth members and/or their dependents are entitled to avail of the benefits if either of the following is met:
Paid premium contribution for at least three (3) months within six (6) months prior to the first day of availment; or
Paid in full the required premium for the calendar year
If you have questions or problems regarding your PhilHealth membership, feel free to ask in the comment below.