---
Top 31 Valid ID's Required in the Philippines
Are you familiar with "NO ID, NO ENTRY' signs? Did you experience refusal from a Money Changer or from a "Kwarta Padala" institutions when you want to receive money from someone but you have no valid ID. Whether your a student, an employee, or an average Pinoy, a valid ID (valid Identification Card) is always required when transacting business, accessing public/private institutions or opening bank accounts. So here's a list of the Top 31 Valid ID's required in the Philippines.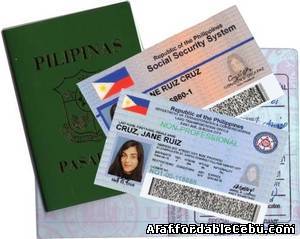 (Picture) Sample Valid ID's Required in the Philippines
Top 31 Valid ID's Required in the Philippines (in Table Format)
ID
Photo (Sample)
-- Click to Enlarge --
1
Driver's License
2
Postal ID
3
Social Security System (SSS ID)
4
Government Service Insurance System (GSIS ID)
5
Tax Identification Number (TIN ID)
6
Professional Regulation Commission (PRC ID)
7
National Statistics Office (NSO) Birth Certificate
8
Marriage Certificate (NSO Authenticated)
9
National Bureau of Investigation (NBI) Clearance
10
Police Clearance
11
Barangay Clearance/Certificate
12
Senior Citizen's ID Card
13
PhilHealth Identification Card (PIC)
14
Alien Certificate of Registration (ACR I-Card)
15
Consular ID
16
Permit to Carry Firearms
17
Passport
18
Company/Office ID
19
Student's ID or School ID
20
OFW ID
21
Seaman's Book
22
Armed Forces of the Philippines (AFP) ID
23
Home Development Mutual Fund (HMDF) or PAG-IBIG ID
24
Philippine Overseas Employment Association (POEA) ID
25
Certification from the National Council for the Welfare of Disabled Persons (NCWDP)
26
PRA Special Resident Retiree Visa (SRRV) ID
27
Department of Social Welfare and Development (DSWD) ID
28
Overseas Worker's Welfare Administration (OWWA) ID
29
Unified Multi-Purpose ID (UMID)
30
Philippine National Police (PNP) ID
31
Voter's ID

These valid ID's are in compliance with the Bangko Sentral Ng Pilipinas (BSP), circular 564. Clients who engage in a financial transaction with the covered institutions for the first time shall be required to present the original and submit a copy of at least two valid photo-bearing identification documents issued and signed by an official authority.

So, be sure to bring at least 2 valid ID's when transacting business here in the Philippines.