---
University of San Carlos Logo
Below is the image of the official logo of the University of San Carlos. You can download it on your computer by pointing the mouse on the logo, right-click your mouse, and save image as or save picture as...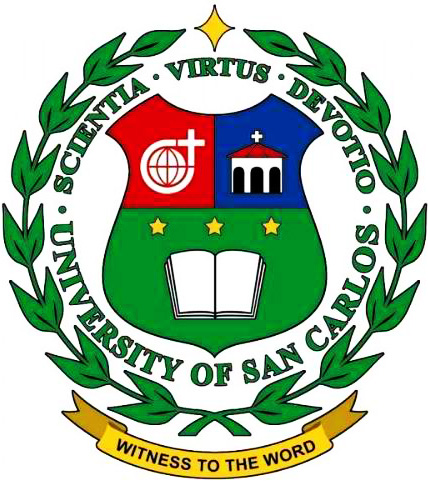 University of San Carlos Seal (Logo) Symbols and Meaning
This seal or logo is the symbol of the University of San Carlos.
Laurel Leaves
The seven (7) full laurel leaves on each side surrounding the shield stand for excellence. The sets of leaves recall the seven gifts of the Holy Spirit: wisdom, understanding, counsel, fortitude, knowledge, piety, fear of the Lord.
Shield
The upper left part of the shield has the globe surrounded and topped by the cross. This is the symbol of the SVD in the world.
The upper right part of the shield is Magellan's cross, symbol of Cebu where USC is located.
The three stars above the open book represent the three main island groupings of the Philippines: Luzon, Visayas, Mindanao.
The open book symbolizes knowledge, education, and the Word of God.
Witness to the Word Banner
This is the identity of the Carolinians: Witness to the Word
Warning! When posting comments, strictly observe correct spelling. Avoid incomplete words such as TY (as Thank You), Pls as Please, gud as good, dpt as dapat, etc. You can comment in English or Tagalog. If you will not follow this simple instruction, your comment(s) will not be accepted or published.