How To Inquire PLDT Touch Card Balance
The PLDT Touch Card is one of the affordable prepaid cards that PLDT offers. You can use this card to make IDD local, NDD, and mobile calls using PLDT payphone, PLDT landline or PLDT Landline Plus. This was also used as prepaid reloading card for Smart and Talk N Text cellular subscribers many years ago. Due to lack of information on how to inquire the balance of PLDT Touch Card on the card itself, here's the procedure below on inquiring the remaining balance of your PLDT Touch Card.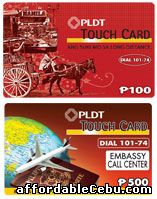 PLDT Touch Card




Balance Inquiry

To inquire account balance, enter

10-digit card number

of the PLDT Touch Card and press the

#

sign.

A voice recording will tell you of the remaining balance or value of the card.

Denominations





PLDT Touch Cards are vailable in P100 and P500 denominations. And you can usually buy this at the PLDT business offices, malls, supermarkets or any PLDT dealers in the Philippines.



Validity



PLDT Touch Card P100 is valid for 30 days from first use.
PLDT Touch Card P500 is valid for 120 days from first use.
Are you having a problem on checking your PLDT Touch Card balance?

Warning! When posting comments, strictly observe correct spelling. Avoid incomplete words such as TY (as Thank You), Pls as Please, gud as good, dpt as dapat, etc. You can comment in English or Tagalog. If you will not follow this simple instruction, your comment(s) will not be accepted or published.
Total comments: 3
3
Malou
(13 May 2014 3:47 PM)
I am following the instructions on how to load a touch card in my phone. The reply is "your e load wallet is insufficient. " what will I do.
1
Pet Parilla
(25 January 2014 11:21 AM)
how to use the pldt touch card 100. i successfully enter the 100 load to my cmart cp but my problem now is how to call. i read the instruction but i was not able to contact the person that i need to conatct to. can you help me?
in my first call i pressed the activation code plus the # sign.Example:9723#0025552828#. isnt correct?
Pet Parilla, upon first use of the card, enter the activation code followed by the # sign. For succeeding calls, activation code is no longer required.

Dial the number of the person you want to call:
Local/Domestic: 0 + Area Code + Phone Number + #
Mobile: 0 + Access Code + Mobile Number + #
International: 00 + Country Code + Phone Number + #