---
Requirements in Traveling with your Dog or Cat by Ferry/Ship in the Philippines
If you are a traveler in the Philippines, most likely, you have no idea on what to do or what to bring if you travel with your pet (e.g. dog, cat, etc.) by Ferry/Ship. You might be worried that your pet cannot be traveled with you. To eliminate your worry and avoid the hassle of your dog or cat getting barred from the ship, you must bring a "Permit to Travel" or otherwise known as "Permit for Local Shipment of Animals".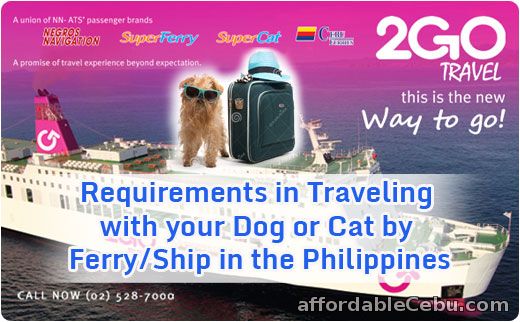 Where to get the Permit to Travel (Permit for Local Shipment of Animals)?




You can get it in the Department of Agriculture (DA) particularly in the Bureau of Animal Industry (BAI) office. The BAI office is under the management of the Department of Agriculture. The BAI office is usually located near the DA office. If you don't know where the DA or BAI office is, you can ask your neighbors or friends. They're willing to give you answers.




What are the requirements in order to get a Permit to Travel for your Dog or Cat?
The dog or cat must be at least 2 months old and above

.

Present the rabies vaccination certificate. You can get this from your veterinarian or from the DA office where you immunized your dog/cat. The DA office offers free animal anti-rabies vaccination in priority areas. They have a file or record to all dogs they immunized.
In the BAI office, fill-out a form with the following information:
Name of the Shipper/Traveler
Address of Origin
Address of Destination
Type of animal to be travelled
Date of Travel/Shipment
Purpose of Travel/Shipment
Type of Transportation to be used (e.g. Boat)
Take note: No need to bring your dog/cat in the BAI office. Just present your Rabies Vaccination Certificate or Rabies Immunization Certificate.
Is there any charge/fee in getting a Permit to Travel?
No
. It's free of charge. Some BAI office have donation box. You can offer a donation (any amount) if you like. But I suggest it's better to give than to receive. Be kind to the BAI office for the free service.
Traveling by 2GO Travel Ferry/Ship
2GO's policy for Pets is:
"Pets and other animals (except for endangered species) are allowed on the vessel provided that they are properly caged and with quarantine certificates from the Bureau of Animal Industry and a bill of lading".



So it's required that you should have a cage for your pet. This is to protect other people from any bites or any harm that the pet may cause. Quarantine certificates refer to the Permit to Travel and the Rabies Vaccination/Immunization Certificate. You also have to pay a bill of lading for your pet. For dogs/cats, it usually cost Php 150 as of this date.




Your pet will be treated as a cargo. So, it will be placed in the cargo area particularly in an open place where you can easily see it. You are allowed to feed or visit it anytime you want.




Based on my personal experience, 2GO staff will place your pet in safe place where you can easily visit it. 2GO have the responsibility of your pet because you pay for the bill of lading. If it's lost, then they will pay for it.




Traveling by Cokaliong Ship




Based also on my personal experience, Cokaliong also requires the cage, the Permit to Travel and the Rabies Vaccination Certificate.




Cokaliong staff was very accommodating. They allow us to have our dog (which was inside the cage) be placed near our bed. We were in the Economy Accommodation. And only a few passengers are there. Some passengers were very friendly with our dog. We even let the dog out of the cage.




Frequently Asked Question (FAQ)




Do I have to be the owner of the pet to get the Permit to Travel?



No. You can let other people get the permit as long as he/she bring the Rabies Vaccination/Immunization Certificate.
Are you planning to travel your pet with you? Do you have any question regarding traveling your pet by ship/ferry/boat?
Warning! When posting comments, strictly observe correct spelling. Avoid incomplete words such as TY (as Thank You), Pls as Please, gud as good, dpt as dapat, etc. You can comment in English or Tagalog. If you will not follow this simple instruction, your comment(s) will not be accepted or published.
Total comments: 3
3
Jilyn Q Phillips
(19 September 2017 10:30 AM)
Hello MAM/SIR
what type of cage do I have to put my cat in for travel from Manila to Bacolod
2
kent
(11 April 2017 3:55 PM)
thank's for this information.
just planning to travel my Belgian from Cebu to Manila..
keep up..
1
abegail
(09 December 2016 8:29 PM)
can i bring my 2 months old dog in 2go batangas to calapan?